As part of the system that keeps the hotel functioning like a well-oiled machinery, the staff often goes beyond the call of duty to provide excellent service and meet the guests' needs. Moreover, while a lot has been said about hotels doing everything to live up to guest expectations, very little is said about what the hotel staff expects from the guests. Hoping for the best service from a hotel experience is not unusual. Still, many fail to understand that expectations are not a one-way street; hoteliers, too, wish for their guests to be courteous and honour the house rules during their stay at a property.
Although these may seem like small things, the impact of hotel etiquette is greatly positive. Being mindful of how you behave in a hotel helps hotel staff maintain service standards and inspires them to assist in times of need enthusiastically. Further, that culminates in making the overall experience pleasant for every guest. So, next time you are staying in a hotel, consider doing (or not doing) these things:
While in your room
If you arrive at a hotel's doorstep with the impression that whatever happens behind the closed doors of your room will go unnoticed, you might want to think again. Hoteliers often encounter misdemeanors and thoughtless behavior, and many of them have the means to resolve unpleasant situations. For instance, you might think that you can get away with cheating the minibar, but hotels are learning from bitter experiences and they have a solution ready. They have the means of identifying what has been consumed and will charge it to the guest during checkout.
If you are a smoker, the best practice is to ask for a smoking room instead of insisting on lighting a cigarette in a non-smoking room. Also, covering up the smoke alarms or cooking in a room without a proper kitchen setup or an exhaust system are equally bad ideas, which can pose a risk to the smooth
Operations of a hotel by triggering the hotel's fire alarm system unnecessarily.
During my stay in hotels, I have encountered situations when my temporary neighbors have partied through the night, blasted music, slammed doors, invited unsolicited guests without informing the management, and sneaked in pets in non-pet-friendly hotels. The list goes on. You might believe that incidents like this do not happen frequently, but they are shockingly common. Moreover, they all create a noisy environment and make for an unpleasant experience for the other guests.
In matters of housekeeping, you might think that some of the worst nightmares for the staff are trash lying in bed, towels stained in makeup, and filthy bathroom sinks. However, things are actually worse off. There have been incidents of human faces being pushed under the rug or broken vases hidden under the mattress. Doing this, can put the health and safety of the hotel staff and future guests at risk? The straightforward course of action is usually the best: if you have broken a glass or damaged an electronic item, inform the staff, and they will take care of it.
While in common areas
Common areas in hotels are for every guest to enjoy, irrespective of the room category you or they have booked. Way back in 2015 and 2016, Expedia's Hotel Etiquette Study ranked inattentive parents as the most dis-likeable category of guests in hotels. In addition, this still stands true. Having kids run around unsupervised is a nerve-wracking experience for guests and staff alike. Up there on the scale of annoyance are noisemakers who assume that quiet zones, such as hallways, lifts, lobbies and lounges, are their personal spaces, which they can use to talk loudly and create a dramatic scene. Taking such high-volume conversations outside or into your rooms is always wiser.
When at the swimming pool, if you want to take a nice dip in the pool, respect the dress code and hygiene needs at the pool. Do not reserve pool loungers if you don't intend to use them anytime soon. In addition, let what happened by the pool stay by the pool. Use the shower before heading to your room instead of leaving a trail of water behind you. The same goes for when you avail spa services.
Watching your smoking habits is not limited to the four walls of your room alone. If you feel like smoking in one of the public areas, ensure it is not marked as a non-smoking zone. Dispose your cigarette stubs responsibly and never throw them in the garden, hallway, or poolside.
Being indifferent about the expected etiquettes in common spaces like spas and pools directly affects the quality of the hotel experience for everyone checked into the hotel. After all, no one likes their time of
peace and quiet disrupted, especially when they've come away to enjoy a nice vacation or a business trip.
In the case of food and beverage
Providing quality food and beverage facilities is integral to a good hotel experience. Staff at the hotel restaurants and coffee shops strive to do their best to offer diners quality experiences in these spaces. But, your wayward behavior can hinder the waitstaff from delivering the services you expect. Restless demand for their attention, snapping fingers at the staff or sitting at a dirty table to 'hurry' things up do not fast track the services. Instead, they put off the people who are sincerely dedicated to serving you and draw frowns from the other guests in the vicinity.
Most hotel tariffs include complimentary breakfast served in a coffee shop or banquet hall. While a breakfast-inclusive room rate allows you to eat to your heart's content, that does not mean you should be demanding takeaway boxes because you do not feel like eating breakfast! Going overboard on complimentary breakfast, crowding the buffet counters or cutting queues to be served first only shows you in poor light. And don't get started with your meal right next to the buffet – chances are the hotel will have seating arrangements for you to dine and indulge in discussions with your friends and family. You do not need to stand there to eat or talk, you know!
While we are at food and beverage, are you someone who places last-minute orders from your room? It might also be a good time for you to reconsider that habit. The hotel F&B team will serve you, no doubt, but if you ask for room service only minutes before the kitchen closes and raise complaints when service expectations are not met, it is not entirely the hotel's fault. While the staff strives to be readily available to serve their guests, expecting them to move mountains for you is unrealistic and, frankly, ill-considered.
A larger issue with most hotel guests is disrespecting the hotel's policies and reacting in appalling ways when their behavior is called upon. Claiming more than what one has paid for, declaring 'elite' status for offers, and bickering to get discounts or upgrades are quotidian. Sometimes, hotel staff have been asked to babysit or dog sit and even blamed for unexpected weather conditions. These are outside the due services they are supposed to provide. While the hotel staff tries to treat you like an expert in cuisine, at times it crosses the line when the Chefs are called to the table to be told how to cook.
Demanding last-minute early check-ins or late check-outs and vandalising or packing up hotel property is surprisingly common too. It is important to understand that booking a hotel room differs from buying one. A hotel lends its space, amenities and services only for a certain period of time. But sometimes, even the most modern of travelers go about with the mind-set of 'paying means owning', especially when they are in their rooms. We have all been guilty of one or many of these at some point during our travels. What I am trying to say is – maybe take a step back and reconsider your behavior while you are in a hotel next time. Be a better guest next time!
Ram Gupta is a hotel management graduate. He is a certified Hotel Administrator from U.S. and MIH from U.K. He has over 40 years of sound experience in the Hospitality industry in India, Dubai, U.K, Europe and Japan and is well versed with all areas of business including acquisitions, mergers, joint ventures, diversification, strategic planning, development and operations. He has been associated with over two dozen luxury and boutique hotel projects and has launched two hotel chains in India. He is currently an independent hotel consultant and could be contacted at ramgupta@bcgglobal.com. Website: www.bcgglobal.com
BOOKS ON HOSPITALITY BUSINESS BY RAM GUPTA
MANAGING HOTELS & HOTELS AN ENIGMA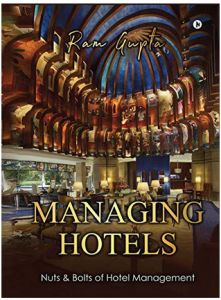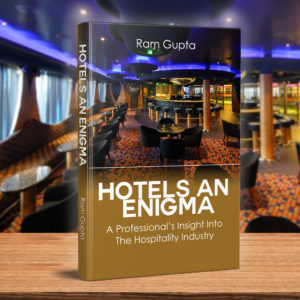 ALSO ON,-
AMAZON KINDLE, KOBO, GOOGLE PLAY & i BOOKS
LOOKING FOR A JOB, UPLOAD YOUR RESUME NOW