Not knowing how to become an online influencer?
Well read on to know how…
If you've just ventured into the realm of Social Media Marketing, you must have heard this word "influencer" come up quite often. Who are these people? How do they impact your marketing efforts? Why do you need to factor them in when you're making a social media strategy?
Online Influencer – Definition
'Online influencers' – this term can be used to describe anyone – celebrities, experts, agitators and connectors – who has a huge number of people following them on their social media pages. These influencers constantly engage with their followers and have the ability to sway opinions, change perceptions, and impact buying decisions.
Now, imagine having that kind of a following yourself. People hanging on to every word you speak. It's a powerful position to hold and a great marketing strategy for those who want to reach their audience in a non-pushy, non-promotional way. Whichever type of influencer you aspire to be, there are a number of strategies that can help you get there.
How to be an Online Influencer
Create a lot of interesting and insightful content related to your industry

As a rule, influencers are people who are subject matter experts. That is the only way to disseminate information the audience will find valuable. If you want to be an expert in your niche, the trick is to read a lot, stay informed, and stay updated. That's the only way you'll be able to create a ton of insightful content to post on your social media pages, which, in turn, will bring credibility to you and your brand.
Find out what your audience wants and give it to them
When creating content for your audience, avoid the urge to just dump information on them. For it to be valuable, your content has to resonate with your audience. Scour through your social media comments, mentions, likes, and emails to understand what your audience really wants. Once you find topics that are relevant to them, create content on them to engage your followers and speak directly to them.
Don't make it look like you're typically selling your company or your products
You can imagine how monotonous and dull it becomes if everything you say is about your brand. You're no better than that pesky salesman who refuses to get out of your face. If you want to be an expert in your industry, go one step beyond blatant selling. Touch the lives of your audience, discover their pain points and solve their problems, help better their business, and pitch your product smartly. As a thumb rule, post 80% industry related content and 20% promotional content.
Always be real
If you truly want to be an online influencer, don't trash or even praise something just because everyone is doing it. Make your opinions as real as possible. No matter what you say, you can never make everyone happy. So, there's no point in lying.
Remember, whether you're an online influencer for Instagram, Facebook, or Twitter, your endorsements hold great value. You don't want to be associated with products / services / people / or businesses that are less than straightforward. Weigh your opinion carefully and be wise in sharing them. The more honest and fearless you are, the more people will listen to what you have to say.
Focus on quality more than quantity while building your audience
There are a lot of people out there who believe that it's most important to have a huge number of followers. I'm quite sure you feel the same way; but, that notion is not entirely true.
Whatever you do on social media should bring genuine people on board, people who are actually interested in you and who may even convert into leads. You don't want random people to follow you just for the numbers. I always believe in quality over quantity. A business that has fewer followers, but greater engagement with its audience is miles ahead of one that has only followers and not interaction with many of them.
Join relevant conversations
Being an influencer means you have to stay on top of all rumblings in your industry. Track these industry related conversations on social media, using tools like Social Mention or Hootsuite. Understand and follow these conversations, engage with people and share your opinions.
Engage in online networking
Being and influencer isn't just about posting great content on your own platform and engaging with your followers. You will need to continually reach outside your current sphere of influence and build new connections. This will include following other influencers like you, reading and commenting on third party blog posts, and engaging with them on all social media platforms.
Network offline
From time to time, power down your laptop, step out of your office chair, and participate in events and seminars relevant to your niche. This is a great way to make new connections and keep things real. Be generous in sharing your knowledge and be generous with your time.
Guest post on authoritative sites
To some, guest posting seems like a waste of time. To others, it's just a lot of effort. But trust me when I say this, it is one of the best ways to create a lasting impression and get new followers. When you guest post on other high domain authority sites – sites that offer good content and have a high readership – you get a whole new set of viewers reading your content, not to mention newer leads for your business.
Stay on top of breaking news in your industry
As an influencer your audience will expect you to have first-hand information of everything that's happening in your industry. So, make sure that you're among the top few who break the news about anything interesting that's happening in your industry.
If you do all of this, and do it consistently for an extended period of time, nothing can stop you from becoming a successful online influencer for your niche. You've got to have patience because this is not going to happen overnight, but when you do get there, you will reap the rewards of your efforts.
Now that you know how to be an online influencer, what are you waiting for? The path is laid out in front of you and all you have to do is begin. Do let me know if this article helped and I'll keep posting the coolest hacks to grow your influencer marketing strategies.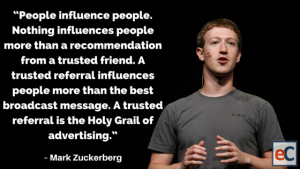 Before I wrap up this blog, I have a free tip for you – it is 100% FREE. Please check out this 7 Steps to Results guide. It's world-renowned and over hundred twenty thousand ordinary, average people have turned their lives around using the system.
Vick Strizheus, creator of this system and the high traffic academy and one of the greatest digital marketing influencers speaks simply, but with authority, and walks his members through various stages of inviting prosperity into their lives. I have interacted with countless people who are now minting money thanks to the 7 Steps to Results guide. Once you are in the member's area, you could also join the "Insta Traffic Mastery"
10 Modules show you how to conquer Instagram, designed by Tim Karsliyev – one of the global Instagram expert and Influencer!
Find out all about "Insta Traffic Mastery" here.
So go ahead and take a look. It's will only take 10-15 minutes, but the impact it has on your life will be long lasting. You'll thank me later.
You're out of excuses now, so click on the link below to check out the 7 Steps to Success guide – it is 100% FREE!.
See you back here soon!