Whenever we think of the future, our minds run to those grand descriptions we've seen in sci-fi books and Hollywood movies. Flying cars, talking robots, self-cleaning homes … the world seems such a nicer and more convenient place in the future.
Coming back to present times, technology is certainly shaping the world as we know it now. No industry has been spared the disruption. Healthcare, education, banking, finance – they all have changed the way they function. It was only a matter of time before the hospitality industry caught up with them.
In 1912, popular historian and author Harold Eberlein wrote that hotels of the future would become very much 'roof oriented', where aerial taxis would "circle like vultures over the hotel, waiting for a doorman to signal one of them to alight and pick up a departing guest."
While I applaud his imagination, I regret to say that hotels are yet to receive their own flying taxis. However, they're doing plenty of other things that are just as incredible and exciting. In fact, guest rooms are becoming the guinea pigs of experimentation, and more and more hotels are welcoming technology and innovation into it.
What you're about to read next is not borne out of flights of fantasy. Future has finally arrived, and it looks damn good!
Smart Mirrors
We may be far away from our own 'Mirror, Mirror on the Wall' experience, but Electric Mirror, a global leader in 'mirror tech' (yes, that is actually a legitimate field of science) has given us something better. Christened the Savvy Mirror, it places the most advanced mirror technology in the world at your fingertips.
From news to weather forecast to traffic updates, the Savvy Mirror shows you more than your reflection. It lets you control the ambience of the room and also informs you of the events happening in and around the hotel. This mirror has already been spotted in a Starwood 'Four Points by Sheraton' concept room, and I can't wait for it to become a mainstream attraction.
Futuristic Bathrooms
For many guests, the deciding factor for a good room has often been the bathroom. Designers and hoteliers are now paying a lot of attention to the bathroom space, even expanding it to occupy almost 50% of the total hotel room space.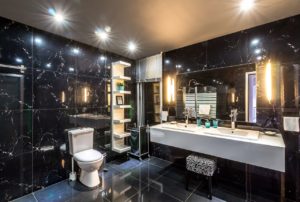 Tech has really arrived when it comes to toilets. Honestly, Jacuzzis look old fashioned when you talk about this Japanese technology that integrates bidet, directional water jets, a water massage function, dryer, deodorizer, and remote control all into one.
Philippe Starck's SensoWash has similar technology which enables the user to set water temperature, volume and direction, followed by blasts of warm drying air. Add hydrotherapy tubs, Vitamin C infused shower heads, and showers that can deliver steam as well as water – and you've got yourself a bathroom you're likely to spend hours in.
HVAC and Lighting Control
Lights? What are they doing with lights? – By the looks of things, a lot!
RFID and other IoT-based sensors are all set to make your life easier. Remember all those times when you bumped into the furniture as you made a dash for the loo? Not anymore. Aloft Hotels illuminates the way to your bathroom using nifty sensors under the carpet. About time, don't you think?
Remote touchpads and panels will also play a big role in manipulating ambient conditions. The Wynn Las Vegas is putting the Amazon Echo in all of their rooms, allowing users to voice command Alexa – Amazon's virtual assistant – for a variety of things, like controlling lighting, room temperature, drapery, and even the television. No longer will you have to fiddle with switches or fumble with the remote. It's all hands-free from now on!
Changing up the Telephone
In a world largely dominated by smartphones, is there any use for the fast disappearing landline? The Bel Air in LA seems to think so. They've remodeled the room phone to incorporate a touch screen that lets you control the lighting, heating, and cooling.
The Epic Hotel in Miami, on the other hand, has a 'surface station map' – a smartphone kind of device, which look like a Pac-Man arcade table. It lets you surf the net, listen to music, watch videos and even check out local hotspots.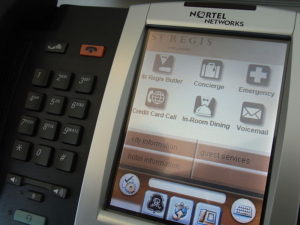 At the Wit Hotel in Chicago, The VoIP touch phone lets you call housekeeping and the valet, and avail of an array of services – that too, without having to say a word. How about that!
All these innovations lead me to believe that the old school phone is alive and kicking and has an important role to play in hospitality even today.
Interactive Television
The television has been on the decline in hotel rooms. Guests aren't really fascinated by conventional TV channels anymore, and prefer using their personalized devices that offers a larger variety of media.
To counter that and stay relevant, mirror LED televisions are appearing in bathrooms, and TV's are now equipped with all the right frills.
Aloft hotels have a streaming service that uses Google's Chromecast. It allows guests to stream media from Netflix, Hulu, YouTube, and more. The Marriott also lets users sync their accounts to the TV for a truly personalized viewing experience.
Futuristic Security
Hotel security has always been a matter of concern. Balancing security with seamless access is not easy. The keycard can always be misplaced, while cameras have blind spots in certain areas. Invasiveness is another problem, since fitting cameras in guest rooms is hardly a feasible solution.
Smartphones are now being converted into easy access room keys, since they are less likely to be lost. Places like the CADD Emirates are already using biometric security measures to keep undesirable elements away. Other mobile keys send alerts to the guest's phones if someone enters their rooms when they are out.
Synchronizing the IoT and security environment into a consolidated system is also a great way for hotels to be on their toes, as this takes care of security logs, incident reports, patrol management, inventory tracking, and object tracking for lost and found.
For disaster management and other reinforced security measures, intelligent design is being implemented in hotels to facilitate easier evacuation and response, turning hotels into adaptive fortresses.
Energy Management
Energy factors among the top three spends in a hotel. Despite their best attempts, most establishments are bleeding money in this departments, and desperately looking for measures to curb expenses.
Inventors and entrepreneurs have responded to this need with a variety of solutions. Interel has developed a water management system that lets guests adjust water flow and temperature in the room, while also creating continuous monitoring loops in order to optimize consumption. It has an eco-mode to enable water and energy savings at the same time.
Hilton, on its part, has implemented an energy management platform called 'LightStay' in over 4500 hotels. It analyzes water conservation, waste diversion, carbon footprint, and energy performance to control and curb excesses.
Virtual/Augmented Reality
Virtual reality and augmented reality (AR-VR) have several interesting applications in hospitality. It can let guests sample the rooms before checking in. They can also access special offers, view maps and contact the hotel using AR-VR.
Marriott introduced the 'Marriott teleporter' in 2014 – a 4D travel experience guest could take using the Oculus Rift headset. The teleporter station itself added smell and touch-based sensations to complete the package. They've also introduced VR postcards that facilitate a fully immersive travel like never before.
Residence Inn, in 2015, had a party mixer with an app that uses AR technology to let guests access customizable selfies, interactive trivia games, recommendations for food, and beer pairings.
To conclude, we're living in truly exciting times. The hospitality industry is embracing the potential of AR-VR and reshaping the experience they're offering to their guests. Technological integration has become the new normal and hotels are not shying away from testing new ground and pushing the boundaries. Guests are in for a pleasant surprise and I can't wait to see how this develops into a norm in the coming years.
Ram Gupta, the author is a hotel management graduate from India and Germany; He is a certified Hotel Administrator from U.S. and MIH from U.K. He has over 40 years of sound experience in the Hospitality, real estate industry in India, Dubai, U.K, Europe and Japan and is well versed with all areas of business including acquisitions, mergers, joint ventures, diversification, strategic planning, development and operations. He has been associated with over two dozen luxury and boutique hotel projects and has launched two hotel chains in India. He is currently an independent hotel consultant and could be contacted at ramgupta@bcgglobal.com. Website: www.bcgglobal.com
Hotels An Enigma – now available of Amazon.com, Amazon.UK and Amazon.In