Excellent food and beverages (F&B) have always been an integral part of the experience that guests expect from a hotel. But, F&B at hotels are no longer just a service but a strong indicator of the positioning and brand value of the hotel. For Indian hotels, F&B is slowly becoming a major revenue driver, contributing up to 50% to overall revenues. Offering good food and quality beverages isn't the only benchmark for hotel F&B anymore. Finer details come together to form a larger umbrella of the guest experience. Hoteliers have not shied away from innovating and finding newer ways to invite diners to their in-house dining spaces.
Here are a few things that have changed in hotel food and beverage in the recent past –
Small menus, smaller portions
Epicureans often claim that designing a menu is nothing less than art. However, unlike a piece of published art, a hotel's menu has to adapt and change according to the times and situations. While hotels traditionally offer long, intricate menus with an array of options, maintaining an inventory of ingredients is both cost and time-sensitive, and implementing quality checkpoints is an extensive exercise.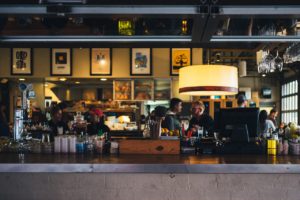 They also contributed to decision fatigue after flipping through numerous pages of food descriptions. The tiresome experience often results in guests either repeating items they have had before or going by the recommendations presented by their server. Smaller menus, on the other hand, when well-executed, curbs all those and offers a more personalized experience.
The untapped potential of limited offering menus emerged when challenges of the pandemic loomed upon the hospitality industry and compelled hotels to strategize ways to keep their spaces up and running. The call to offer limited dishes helped compensate for the shorter working hours, limited staff, supply shortages, and steep operating costs. At the same time, shifting to smaller portions, tasting menus, and food pairings helped hotels show case the best they had to offer, keep the pricing attractive and reduce wastage. Going small aided in optimizing resources, streamlining processes and curating high-value dishes while being innovative.
Going beyond food hygiene & safety
Although the concept of food safety has been around for a while, hotel restaurants often limit themselves to simply displaying allergen information on the ingredients. In recent years, a new wave of transparency has emerged wherein the description of meals has been more comprehensive than earlier. Restaurants are not only introducing more contemporary, healthier cuisines but also designing menus to provide nutritional facts and benefits of the dishes. They are innovating the existing menu to cater to a conscious lifestyle that consumers have shifted to. Plant-based meals, wellness menus, and creative non-alcoholic beverages are becoming popular inclusions for many in the attempt to maintain the health quotient in the menu offerings.
However, the change is not limited to what is being served. People are revisiting good-old culinary traditions that offer both health and taste. Understanding this, restaurants are exploring the food heritage of their region of operations and adding local flavors to their offerings. Hotel restaurants address this by weaving stories of food culture into the diners' experience. Restaurants are diving deep to present the journey of the ingredients, blending modern and traditional methods of culinary presentations and elevating the dining experience by appealing to the need to become conscious consumers. From sourcing locally to being mindful about the carbon offset and from environmental to socioeconomic impacts, all are now becoming a part of elevated diners' experiences at a hotel restaurant.
Finally, The digital embrace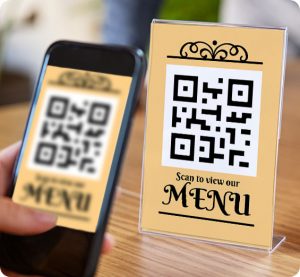 When the convenience of enjoying restaurant quality food in the comforts of their home is gaining popularity, hotel F&B stood its ground by offering exclusive dine-in experiences to the guests. However, the pandemic brought along the challenge of keeping operations up and running. Foraying into the food delivery sector was the need of the hour. Legacy brands and hospitality chains soon turned the adverse circumstances into opportunities. What came out of necessity has become a major hotel revenue source.
As the restrictions of social distancing relaxed, hotels implemented new contactless measures to ensure the safety and comfort of diners. While QR scanners for menus and digital payments became staple protocols, hotels also leapt ahead by integrating technology for table management, food per-order, and customer relationship management.
Hotel F&B services are known to evolve from time to time. From all-day coffee shops to anytime room service, buffet meals to special serving hours, and from banquet halls to host large groups to curated spaces for alfresco dining, hotels have adapted their spaces to trending concepts to cater to the interest and demand of guests. Today, hotel F&B is a consolidation of more than one element of service. It adds value to the overall experience, not just with food and drinks but also with a detailed look at the operating principles of a hotel.
Ram Gupta is a hotel management graduate. He is a certified Hotel Administrator from U.S. and MIH from U.K. He has over 40 years of sound experience in the Hospitality industry in India, Dubai, U.K, Europe and Japan and is well versed with all areas of business including acquisitions, mergers, joint ventures, diversification, strategic planning, development and operations. He has been associated with over two dozen luxury and boutique hotel projects and has launched two hotel chains in India. He is currently an independent hotel consultant and could be contacted at ramgupta@bcgglobal.com. Website: www.bcgglobal.com
HOSPITALITY BOOKS BY RAM GUPTA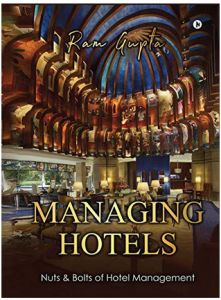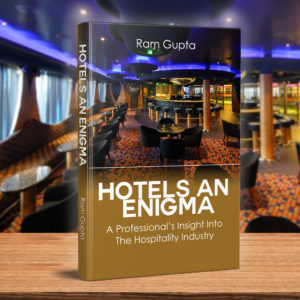 AVAILABLE FROM