Hotel Events & COVID – How is the Pandemic Likely to Impact MICE?
The corporate sector may never be the same after COVID-19. If you own a business, you've likely felt the impact of COVID-19 already, and this is likely to have ripple effects on the hotel industry, which is already among the worst affected industries in the world
Businesses are one of the major sources of revenue for hotels through MICE (Meeting, Incentives, Conferencing, Exhibitions) events and travel. And with regards to that, the future doesn't look too promising. And then, there are other types of events, such as marriages and non-business events, which will face its own series of problems in a post-pandemic world.
In this 2-post series I will be talking about the hotel industry through the lens of both business and non-business events and how things are likely to change after COVID. If you'd like to jump straight to my article related to the non-business events,  (await second blog). And for my two bits' worth on COVID and MICE events, read on.
What exactly is MICE?
Before I begin, let's establish what MICE actually is first. The acronym stands for Meeting, Incentives, Conferencing, Exhibitions; containing the central aspects of business travel and events such as attending meetings and conferences as well as traveling as rewards and incentives. It's an essential aspect of conducting business these days, as off-sites become the norm and industries overall have become globalised.
MICE: Before and During Pandemic
A major reason for MICE travel is promoting goodwill, seeking out networking opportunities, and cultivating business relationships. A substantial part of revenue for the hospitality industry comes from these events, as they involve not just bookings of accommodation but also catering and restaurant services, spas, halls, transportation, and more.
During this period, businesses started experimenting with other options for holding events, such as hosting live events online, pre-recording lectures and speeches, holding meetings through Zoom and Skype calls, etc. It was understandably a significant blow to the industry, therefore, when all these stopped when the COVID pandemic arrived at our doors.
Take Apple's recent Worldwide Developers Conference (WWDC 2020), for example, which was for the first time held entirely online with pre-recorded and edited segments to make a cohesive event. Or consider the thousands of Zoom calls made during the past few months, which perhaps would've happened in person in various hotels of the world had there been no pandemic.
However, while some events were able to move to virtual settings, for some it was simply not possible. The "I" and "E" of MICE would be good examples of this, as travel incentives were more or less all postponed or cancelled during the pandemic and large exhibitions, of course, could not be held in order to observe social distancing measures.
MICE: After the Pandemic
While the pandemic shows no signs of slowing down right now, the world slowly seems to be returning to its original pace. Let's imagine a post-COVID world where we now must move towards restoring our businesses full-fledged. What might that look like for the hospitality industry, specifically considering business events?
No doubt travel would sooner or later resume, once the corona-virus is not as big an issue and people can finally act on their itch to ditch the Zoom calls and get out of their homes. The when and how of this, however, depends on a few factors:
Type of event
A huge consideration during the industry's return to "business as usual" would be what kind of events would first return. It would probably be the smaller yet more essential business travel that would start up first, such as meetings and smaller conferences. Any event that could possibly be conducted online or postponed until businesses are more stable is likely to be kept low on the priority list.
Events that require large gatherings, too, may take some time to resume while the paranoia of large crowds dissipates in people's minds.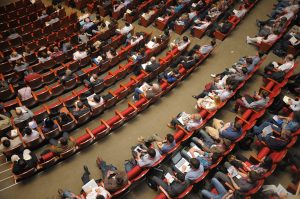 Continuation of virtual events
There's a chance that businesses will choose to continue holding virtual events wherever possible, since that would directly save costs and help them put that money on recovering their business.
Financial matters aside, many businesses that had previously never considered going virtual had to adapt during the pandemic and may now find this model more convenient for conducting operations, especially the smaller businesses. It's difficult to guess the scale of such a shift, but many companies would have inevitably found a comfortable method of conducting operations and events.
Measures taken by hotels
The one thing hotels will directly be able to control in this scenario is how they respond to the environment and adapt to the MICE industry in a way that generates more demand. A part of this, of course, would be the hygiene and cleanliness measures that must be adopted after a widespread pandemic such as this one and being able to provide reassurance to both event planners and guests.
Another large part would be how hotels would respond to the new needs that will emerge post-pandemic. This would include providing more robust tech support for virtual conferences and get-together as well as preparing to rent larger spaces for even the smaller events for a while to ensure social distancing protocols are followed.
The return of MICE travel also largely depends on whether businesses will be able to successfully weather the storm and emerge on the other side of the pandemic. In March, a major media company decided to shut down its in-person events business. Other businesses, too, made the difficult decision and chose to move to virtual events. If the trend continues, we might see a considerable drop in the number of in-person events held in the coming years as they move to the less risky virtual model.
The Overall Outlook
The pandemic has shown businesses that there is another way of conducting events and operations. How quickly the MICE travel industry properly returns to normal remains to be seen, but one thing's for sure: Business travel is too important for it to not resume in at least some minimal scope as soon as travel bans are lifted. While things might be shrouded in doubt for now, there's hope still that innovation and human nature will help the industry return to as much of normalcy as there can be.
Well, this was my opinion on how the hotel industry is likely to be affected in relations to MICE events. Part two of this series, where I ponder over this topic but in relation to non-business events, can be found in my next blog.
Ram Gupta is a hotel management graduate. He is a certified Hotel Administrator from U.S. and MIH from U.K. He has over 40 years of sound experience in the Hospitality industry in India, Dubai, U.K, Europe and Japan and is well versed with all areas of business including acquisitions, mergers, joint ventures, diversification, strategic planning, development and operations. He has been associated with over two dozen luxury and boutique hotel projects and has launched two hotel chains in India. He is currently an independent hotel consultant and could be contacted at ramgupta@bcgglobal.com. Website: www.bcgglobal.com
HOSPITALITY INDUSTRY BOOKS BY RAM GUPTA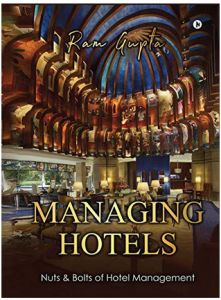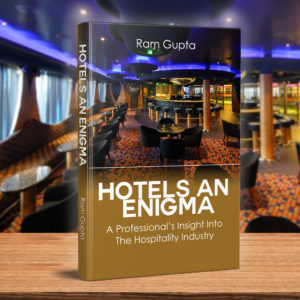 AVAILABLE FROM
ALSO ON,- 
AMAZON KINDLE, KOBO, GOOGLE PLAY & i BOOKS
BOOK STORES IN INDIA
COFFEE CUP – SECUNDERABAD, CROSSWORD – BANGALORE, PUNE, JAIPUR & NOIDA, GANGARAMS – BANGALORE, HIGGINBOTHAMS – BANGALORE & CHENNAI, MODERN BOOK STORE – TRIVANDRUM, ODYSSE – COIMBATORE, OXFORD – DELHI & KOLKATA, STORY BOOK STORE – KOLKATA, TITLE WAVE – MUMBAI, WRITERS CAFÉ – CHENNAI