Looking for ways to drive traffic to your website?
There are many ways to drive traffic to your website, here we discuss 4 simple strategies to drive traffic to your website or blog.
Traffic – the bane of modern times and a boon for online entrepreneurs. When we get traffic on our way to work (or anywhere, for that matter), we have nothing but curses for it. But when we get traffic on our website, we thank the Lord above for his bountiful nature. In the real world, the less traffic you get, the cheerier you become. In the digital world, however, poor traffic is cause for worry and heavy traffic will have you leaping out of your chair in ecstasy!
Long story short, all online marketers love traffic, crave traffic, lose their sleep over traffic, and make their money on traffic. And the one question that stays on top of their mind is – "How the hell can I drive traffic in droves to my online business?"
Most people think of traffic generation as a mystical art – something that defies reason and explanation. But the truth is that sending traffic isn't so much a black art and sorcery as plain and simple logic. If you go about it systematically, there's no reason why your efforts won't pay off.
Here are top 4 ways you can drive traffic to your website
It's All in the Strategy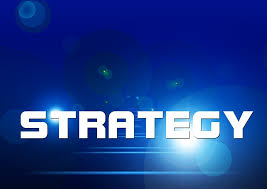 If you're plunging headfirst into digital marketing without a rock solid strategy, you're basically moving around in the dark. You will have no clue where you are, where you've reached, or where you've headed. And how much success do you think you can achieve if you're both clueless and directionless?
Each business will have an online marketing strategy that's unique to its nature, core product and, of course, audience. And while I can't tell you what will specifically work for your business, I will say this – when making a strategy, think about diversifying your efforts. Don't put all your eggs in one basket. Have multiple streams to drive traffic to your site. If you depend on only one and that falls flat, it will be a major set back for you. On the other hand, if you've activated 4-5 sources and a couple don't work out, you still have 3 more you can count on.
Study Your Competition
 When doing business, we all have that one or two people who are doing better than us, or moving neck to neck with us, constantly threatening to inch forward. While most people tend to get jealous of their competitors, I feel they're losing out on a valuable learning opportunity.
I have always made it a practice to study my completion. What are they doing? Where do they have a presence? What strategy worked for them? What campaign flopped miserably and what took off with flying colors? How are they addressing the needs of their audience? What kind of growth have they achieved since they started out?
There's so much you can learn by studying your competition. In fact, what they don't do is just as telling as what they do, because it provides scope for you to think out of the box and come up with ideas your competition hasn't tried yet. Remember, when you do something they're not doing, you will get results they aren't getting.
Don't Hesitate to Spend Money
When you start a business, money is always a sensitive issue. We don't always have access to the kind of finances we'd like and we're required to take some hard decisions. It's never easy deciding where to cut back, but I've noticed that marketing is generally the first to fall under the axe.
In my stint as an online entrepreneur, I have come across several businessmen who've spoken about how they had to settle for second best options for traffic generation because they were cash strapped. And although I sympathize with the position they're in, I believe they've made a grave mistake.
I don't want to come across as preachy, but marketing is the backbone of business generation and even if you're working on a shoe string budget, I would always advise against going in for cheap options for lead generation. They are likely to deliver dubious results and you'll end up with leads that are not suited to your business or that don't convert as easily. This means, your return on investment goes down.
Your criteria should be to choose the most effective tool, not the one that's easy on your pocket. If you have to, pay top dollar for tools that will drive qualified traffic to your site. Sure you'll shell out more, but you'll also receive high quality results, which will give you better conversions. In the end, it will be worth the extra money you spent on the tool.
 Stay on Top of Trends
The online world is a fast changing world. Every now and then, we hear of an update being made to a social media platform. Facebook releases Snapchat like stories, Instagram changes the way you share pictures, and Google updates its algorithms fairly regularly. All these changes have the potential to impact your business, and whether that impact is adverse or favorable depends on whether you're in control of the situation or not.
Let me give you an example – Instagram is currently a rage and online businesses are using it to generate leads by the hundreds. If you're not hip with the current trends, you won't be able to capitalize on it to spearhead your business to success.
In your line of work, you cannot afford to be laid back. You have to be on top of the game or you're going to find yourself being left behind. So, keep your eyes and ears open and never stop learning.
Like I had said previously, generating traffic is not rocket science, but it does require dedicated effort and strategy. And a lot of effort. And a good strategy. Followed by some more effort. And some sound strategy.
You get the drift, don't you?
If you like the nuggets of wisdom I've shared here, please check in again. I've had a fairly eventful stint as an online entrepreneur and have learned quite a few things along the way, which I'd love to share with you. And I promise that each blog will be as insightful (perhaps more!) as this one.
Before I wrap up this blog, I have a gift for you – it is 100% FREE. Please check out this 7 Steps to Results guide. It's world-renowned and over hundred twenty thousand ordinary, average people have turned their lives around using the system.
Vick Strizheus, creator of this system and the high traffic academy speaks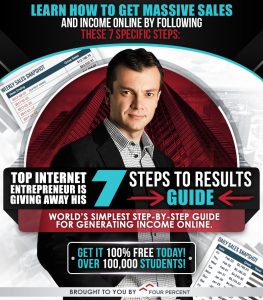 simply, but with authority, and walks his members through various stages of inviting prosperity into their lives. I have interacted with countless people who are now minting money thanks to the 7 Steps to Results guide. And they couldn't be more thankful that they were introduced to it at some point of time in their lives.
So go ahead and take a look. It's will only take 10-15 minutes, but the impact it has on your life will be long lasting. You'll thank me later. Oh, and did I mention before that it's absolutely free?
You're out of excuses now, so click on the link below to check out the 7 Steps to Success guide.
See you back here soon!