Just like any other industry, trends in the culinary world shift constantly to reflect the ever-evolving interests and requirements of the customers. This explains why everyone in the foodservice industry, from the chef to the restaurant owner to the staff, is keen on staying au currant with these upcoming trends.
The past few years have marked a significant shift in the culinary world with all sorts of innovations in technology, food, service, and equipment. The big driver behind much of this change is the realisation that the ambience of a restaurant plays a key role in bringing in, and retaining, customers. The design, interiors, colors, lighting, and music can all affect a customer's perceptions, and swing it in your favor.
Whatever be the motivation, restaurant design is evolving, and the change is evident in the technological and cultural shifts that are shaping our culinary experience. So, fresh from my front row seat of the hospitality industry, here's an intriguing look at the future of restaurant design trends.
Sustainable Atmosphere
While fast-food chains are doing quite well, casual and fine dining establishments have a strong following as well. The interiors play an important role for such restaurants, and the atmosphere and the design is largely affected by the type of restaurant you have and the clientele you cater to.
For instance, a casual dining restaurant will have a relaxed and friendly atmosphere, and owners have the luxury of being experimental in the kind of place they create. A family restaurant, on the other hand, caters to large groups and is often associated with comfort and homestyle cooking.
A fine dining restaurant, however, is a completely different ball game. It goes far beyond taking orders and delivering food to the table. This high-end establishment is expected to represent the exquisite tastes of its customers.
Whatever type of restaurant you may decide to set up, the decor of the future will lay a lot of emphasis on being sustainable. Instead of sourcing mass-produced, commercially available items, handwoven artefacts from local artisans will become more appealing. Recycled and upcycled items will find favor with interior designers, who will ensure that their concepts are earth-friendly and non-disruptive.
Interactive Restaurant Table
This 'Future of Dining' consists of interactive smart table embedded with touch technology. The table uses overhead projectors and touch panels to display menus, watch videos, play games, connect to social media, and surf the net. In some cases, you will even be allowed to pay via the smart table. That is not all. The list of features also includes choosing your own table e-cloth, ordering a cab, and taking pictures.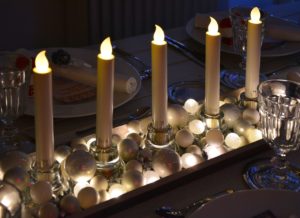 Smart tables aren't just some novelty in a back corner; it can be the cornerstone of a new age in the hospitality sector. It can be used as a new way of communicating, interacting, and entertaining customers. The hospitality sector is no longer about quality food and beverages alone; smart tables are a paradigm shift where dining meets technology to create an offering that is both delicious and interactive!
Mood Lighting
Most of us don't notice restaurant lighting unless it's poorly done, but truth is that lighting can subtly, but effectively, influence your restaurant's ambience. Haven't you ever walked into a restaurant to be completely turned off by the harsh, over-bright lights? Or felt irritated when the lighting was so poor that you had to squint horribly to read the menu? All that is going to change very soon, with mood lighting making its way to restaurants.
Until now, we've only seen hotels adopting the concept of mood lighting. But since lighting plays such a vital part in the whole culinary experience, I believe that light, being the element of design, will be used to achieve predetermined emotional responses by restaurants in future. By using mood lightning, restaurants will be able to induce restfulness, happiness, warmth, relaxation, and pleasantness. It can be used to dramatize elements of interior design and set the mood of the establishment according to the theme. Mood lighting can, more than any other element in the architectural environment, affect the experience of the guest at a restaurant.
Space-Shifting Restaurants
Imagine a perplexing layered restaurant that is a sushi shop by day and a bass-pumping lounge by night. Sounds futuristic, doesn't it? Such an establishment can cater to clients who are open to experimentation. Besides, it's not every day that you see a communal restaurant with picturesque interiors transform into a night lounge, complete with an expansive rooftop patio, a built-in DJ booth and sound system.
To make sure that the interiors of a space shifting restaurant don't look contrasting, go for a built-in DJ and audio system with free-flowing white walls that can serve as the ideal canvas for any occasion be it a corporate event or a bachelor party. Space-shifting establishments will gain popularity and be another fashionable and hip place for the future generation to explore.
The in-restaurant experience is constantly changing. Now, a restaurant is more of a destination than a culinary experience. And the best restaurants are the ones that anticipate and pick up on trends before the others and incorporate them to deliver an exciting and unique experience to its customers. That's the only way they will stay relevant with the passing of time.
Ram Gupta, the author is a hotel management graduate from India and Germany; He is a certified Hotel Administrator from U.S. and MIH from U.K. He has over 40 years of sound experience in the Hospitality industry in India, Dubai, U.K, Europe and Japan and is well versed with all areas of business  He has been associated with over two dozen luxury and boutique hotel projects and has launched two hotel chains in India. He is currently an independent hotel consultant and could be contacted at ramgupta@bcgglobal.com. Website: www.bcgglobal.com