The onset of the new millennium bought along good things such as the first iPod, the founding of Facebook, Wikipedia and YouTube, and my personal favorite – the rise of solo female travelers, thus marking another step forward in the Women's Movement. The independent travels of these women – for both business and pleasure- was their way of saying, "We're here and we're going to live life our way."
And what a life they lived, inspiring books and movies like Eat Pray Love, Wild, Tales of a Female Nomad and Under the Tuscan Sun. Women started taking the road less taken, but it also meant one more thing – with this new demographic to tap into, a number of hotels started customizing their services and rooms to cater to the needs of solo female travelers.
Even if you missed the memo, it isn't too late to alter your hotel now, and if you've been on the bandwagon all along, you can always upgrade and finesse your services.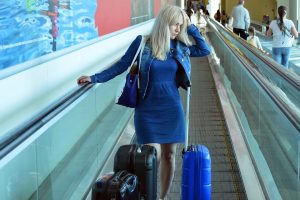 Safety First

The biggest concern for women travelling alone is security, and for good reason too as highlighted by MaidenVoyage.com. This website, founded by Carolyn Pearson, allows solo female travelers to connect, share experiences, and rate hotels on a variety of parameters to determine whether they're female-friendly or not. When the 8,000 plus members were asked what their one demand from their ideal hotel was, safety was the overwhelming answer.
While every hotel had a different take on what steps could be taken to make women feel safer, Richard Branson of the Boutique Virgin Hotels Chain in Chicago did something different. "I don't think any hotel caters to the female traveler," said Branson when asked by the Wall Street Journal about his efforts to make his hotels more female friendly. And that's why he chose to include features like peepholes and better lit hallways in his hotels.
In addition to these measures, hotels around the world are taking a number of initiatives to help women feel more secure. Double locking doors, 24/7 manned concierges, onsite parking, well-lit hallways and common spaces, and elevators that only take you up to the guest floors if you flash your key card are all steps towards ensuring that women enjoy a secure stay in their property. Some hotels have gone even further and provided women with female escorts to their rooms and provided room service delivered by only women.
Matters of Comfort
Other than the obvious need for added security, hotels also saw another avenue they could use to make their services more attractive to women. Yes, we're talking about the more "girly" amenities. The Hyatt Group, for instance, spent a full 18 months conducting surveys across 40 facilitated groups all over the world to see how they could improve their guest experience. These groups, made up entirely of women, prompted the brand to launch a number of new amenities across 500 hotels worldwide. One of the aspects of this was the "Hyatt Has It" program wherein the hotels started stocking up on all possible things that their guests could have forgotten to pack, ranging from deodorants to humidifiers to nail paints of every possible color. This "feminization" of hotels occurred across the board with amenities such as hair curlers, dryers, lifestyle magazines, better linens, etc. being made available to women by hotels.
Women-Only Floors: Brilliant or Degrading?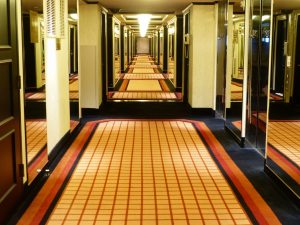 The next step hotels took in their strive to appeal to the female psyche was women-only floors. That's right, full floors or wings dedicated to housing the fairer sex, one of the first of which was in Don Shula Hotel in Florida. Back in 2006, they introduced their Patricia Rooms fully decked out with enlarged makeup mirrors, breast exam cards and glossy magazines, but these rooms have long since been discontinued due to a low occupancy.
The Georgian Court Hotel, Vancouver is another that decided to invest in what they called the Orchid Floor comprising of 18 rooms filled to the rafters with Aveda products, magazines, curling irons, and hair straighteners.
There isn't any room to doubt whether or not a lot of effort was put into these femme floors, but there is questioning if they're necessary. According to Marybeth Bond, founder of Gutsytraveler.com, she "appreciates female-focused amenities—make-up mirror, shower cap, fingernail file—as well as good service at any hotel," but also thinks that other things, such as yoga mats and upscale body products, would be as useful to men as to women. "I don't believe female-only hotel floors are necessary."
Her point is a valid one, but there are a lot of people who feel to the contrary, one of them being Beth Whitman, founder of WanderlustAndLipstick.com, who says, "I think having the women-only hotel floors is a brilliant idea. It provides a safe environment for those who are travelling solo, whether for business or pleasure."
While the verdict on female-only floors remains debatable and full of controversy, one thing I can say for myself is that I am more than slightly pleased with the efforts being taken by hotels, in fact, I raise my glass to them for their endeavors! As the father of a girl who enjoys travelling solo, it's a comfort knowing that there are hotels out there striving to make an environment that is both safe and liberating. Perhaps just food for thought, but if the entire world embarked on the journey these hotels have set out on, what would it be like for girls? Maybe, they'd even be able to step out after dark for a solo walk! Think on it, folks and until then, happy travelling, ladies!
Ram Gupta is a hotel management graduate. He is a certified Hotel Administrator from U.S. and MIH from U.K. He has over 40 years of sound experience in the Hospitality industry in India, Dubai, U.K, Europe and Japan and is well versed with all areas of business including acquisitions, mergers, joint ventures, diversification, strategic planning, development and operations. He has been associated with over two dozen luxury and boutique hotel projects and has launched two hotel chains in India. He is currently an independent hotel consultant and could be contacted at ramgupta@bcgglobal.com. Website: www.bcgglobal.com