Post COVID-19 Hotel Architecture Challenges – Restoring Consumer Confidence
Did you know that China's bubonic outbreak in 1855 forever changed the design of everything from door thresholds to drainpipes and building foundations? Or that the introduction of sewage systems in 19th century England was prompted by the many epidemics that ravaged the land and its people. These sewage systems required the roads above them to be wider and straighter, thus influencing the modern street grid. Also, the 'wipe clean' aesthetic of modernism with light-flooded structures was in part a result of tuberculosis, inspiring an era of white rooms, tiled bathrooms, and the ever-present mid-century recliner chair.
Form has always followed fear of infection, just as much as function. From wide streets lined with trees to antibacterial brass doorknobs, architecture has, in part, always been shaped by disease.
With the Covid-19 pandemic leaving each of us in socially distanced isolation with offices abandoned, shops shuttered, and cities reduced to ghost towns, it's hard not to wonder about the lasting effects it might have on architecture as a whole. And while that would make for a very interesting discourse, for the purposes of this article, we will be focusing only on the impact that Covid-19 is likely to have on hotel architecture.
Even after the dust settles on this pandemic and we venture out to find what people are calling the 'New Normal' for the hospitality industry, there will not be a 'business as usual' bounce back. People will hesitate to step inside hotels and restaurants. To recuperate from the financial loss, it may take months or even years, but certain hospitality veterans who have seen their fair share of tumult believe that there will eventually be a complete return to normal.
But till then, the industry will have to make some changes—big and small—to help it along.
Hotel Architecture Going Forward
One hotel in Hong Kong has already switched its entire renovation plan in anticipation of changing guest behavior. The property closed for renovation in February and within two months, management realized that the renderings drawn before the pandemic might be off the mark when the hotel reopens in a year or two.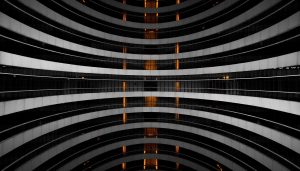 So now, they are considering additional investments such as negative pressure floors that prevent cross-contamination from room to room, built-in thermal scanners, a mobile check-in system, and no-touch elevator control panels.
On the redesign front, they're implementing greater spatial layouts not only in public areas but also in their restaurants and club lounges to give their guests more space and privacy. Their restaurant will have separate sections that complement each other, two private dining areas and an alfresco area apart from the main dining section.
Their conference rooms and function areas will also make space for private parties and small meetings. What's more, they also plan to upgrade the space with IT capabilities, given the rising trend for video conferences.
The use of materials and fabrics may change too. The hotel has asked its project consultants to look into easily cleanable materials that are resistant to bacterial infection, including tabletops, flooring, and seating. For a more hygienic dining experience, their buffets will provide single portions and sneeze guards.
The Hong Kong hotel is not the only one making drastic changes right now. A chain of hotels in Bangkok have also changed the design of its guest rooms and now features hard-surface floors accented by area rugs instead of fully carpeted floors. They did so as area rugs are easier to disinfect and clean. Upon further revision, they did away with other unnecessary clutter like bed runners, decorative pillows, etc.
The hotel will also be re-configuring all public areas, including the lobby, executive lounges, restaurants, and pool terraces in a way that allows groups to separate from each other. Furthermore, they plan on reducing the maximum capacities in elevators and marking the floors with safe-distance indicators where queues may form.
Apart from carrying out these stringent health and safety practices, tech will likely be everywhere in the hospitality industry. With the astonishing cuts to revenue expected over the next few quarters, zero-maintenance buildings, touch-free interactions, and technology-based sanitization will gradually become commonplace in hotels around the world.
Architecture that's Aligned with the Environment
The design of hotels will also become more environmentally conscious. With the positive environmental changes already occurring as the world goes on pause, designers are motivated now more than ever to weave environmentally conscientious design choices into the spaces that they design for guests and staff.
And for those confined in big cities, Danu Kennedy, design director for Parts and Labor, predicts a greater return to nature, sunlight, and fresh air. She says, "Hospitality may need to pivot towards a more exterior rather than interior offering". Parts and Labor Design is one of New York's leading architectural/design agencies specializing in hospitality projects.
The focus on emotional well-being, self-care, and wellness will also become more prevalent. "Architects and designers will need to look at how to make our new 'defensive' spaces (think plexi'd off check-in desks) come off as warm and embracing. The challenge will lie in balancing the need to mitigate worry while at the same time providing spaces that invite guests to relax and enjoy themselves. Designers will need to tap into the psychology and emotional well-being of the guests more so than before.", according to W. Brian Smith, co-founder of Studio Tack, a design and developmental group based in Brooklyn.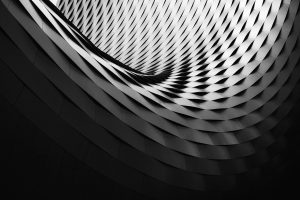 Guests will also be looking more closely at what they get in-room, rather than property-wide. So now and moving forward, hotels will have to develop new plans that bring on-site amenities into the guest's rooms as they will be averse to unnecessary interaction for the time being. Wellness facilities will likely become a fundamental part of what the guests look for when booking a hotel.
The executive director of a renowned hospitality company agrees that privacy will become even more private, thus increasing the demand for in-room well-being practices. Their company has created what it calls a 'White Room' in response to this, which is a clean and sleek space designed to cut out distractions so that guests can reboot through guided meditation.
As you may be well aware, the hospitality industry has far-reaching effects on other sectors of industry. For instance, it enjoys a symbiotic relationship with the travel industry. As accommodation is so easily accessible, people have fewer qualms about traveling for the holidays, for education, for pilgrimage, or business.
What this does then is it generates business for travel agents, airlines, cruises, car rentals, tour guides, and souvenir dealers, among others. Within the hotels itself, it then generates demand not only for accommodation but also for food and beverages, meeting spaces, business centers, spas, banquet and exhibition halls, commercial spaces, etcetera. Therefore, it is imperative that it gets up and running again soon.
While the future may look bleak right now, I, myself, share the optimistic view that things will eventually return to some form of normalcy, if not a slightly improved version of it. Humans are resilient and innately social creatures; therefore, we will always gather to eat, drink, travel, and make merry.
Ram Gupta is a hotel management graduate. He is a certified Hotel Administrator from U.S. and MIH from U.K. He has over 40 years of sound experience in the Hospitality industry in India, Dubai, U.K, Europe and Japan and is well versed with all areas of business including acquisitions, mergers, joint ventures, diversification, strategic planning, development and operations. He has been associated with over two dozen luxury and boutique hotel projects and has launched two hotel chains in India. He is currently an independent hotel consultant and could be contacted at ramgupta@bcgglobal.com. Website: www.bcgglobal.com
BOOKS BY RAM GUPTA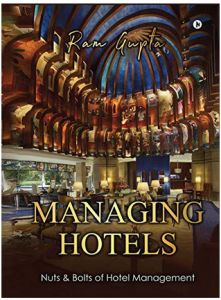 ALSO ON,-
AMAZON KINDLE, KOBO, GOOGLE PLAY & i BOOKS
BOOK STORES IN INDIA 
COFFEE CUP – SECUNDERABAD, CROSSWORD – BANGALORE, PUNE, JAIPUR & NOIDA, GANGARAMS – BANGALORE, HIGGINBOTHAMS – BANGALORE & CHENNAI, MODERN BOOK STORE – TRIVANDRUM, ODYSSE – COIMBATORE, OXFORD – DELHI & KOLKATA, STORY BOOK STORE – KOLKATA, TITLE WAVE – MUMBAI, WRITERS CAFÉ – CHENNAI