Here is why Technology Can Make Hotel Experience Safer In Post-COVID-19 World….read on….
It has been more than three months since a widespread pandemic broke out in India. Life has not been, and might not be, the same after all this is over. Death, infections, an unstable economy, and a never-ending phase of limited movement (whether within the city or outside it) have created a lot of panic among people; panic that will require immense effort to shed off. However, I am confident that this, too, will pass. We will get through this. Years from now, when we look back at this phase, we'll be sipping our tea with an ounce of gratitude for the brave souls that helped us overcome this and a spoonful of appreciation for the opportunity to rebuild our lives.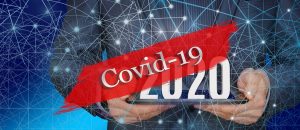 Along with chaos and loss of life, business, too has had its fair share of difficulties with small and large industries facing the consequences of this pandemic. Many start-ups have closed shops, laying off employees at an unprecedented rate. Among the bigger sectors, hospitality and tourism have probably faced the worst of it. With the whole country in lockdown, there is minimal travel domestically and zero travel internationally, bringing the travel industry to a grinding halt. Estimated by ETHospitalityWorld, Indian Hospitality Industry (standalone hotel segments and hotel chains only) is looking at a loss of around ₹960-1100 crores. And this is alarming because it takes into account only the 5% of the accommodations excluding alternate accommodation sectors like B&Bs, Homestays and Guest Houses.
Honestly speaking, if we're expecting things to go back to completely normal in the near future, we'll be fooling ourselves. I don't mean to imply that the travel and hospitality industry will never recover from a loss of this stature. But, it'll require immense effort, planning, understanding and trust-building to get the industries through this.
Trust-building is of critical importance. These industries, by their very nature, involve a fair amount of human contact. COVID-19 has made us suspicious of each other because it's hard to say who's a carrier of the virus and how it is spread. Even if the government-imposed lockdown is restricted and COVID 19 cases are reduced by a substantial amount, people are likely to be hesitant. That's why everything that happens after COVID 19 has to focus on building one very important thing – trust.
Recently, we've seen that people, irrespective of age groups or generations, have become very receptive towards technology. The widespread usage of India's COVID 19 tracker app, Arogya Setu, has proved this claim substantially. It has also proved that if the technology is integrated into various industries, it'll result in a strengthening of bonds between service providers and customers. In view of that, let us see what is a must for the hospitality industries in life after COVID 19.
Hotels in life after COVID 19
Life after COVID 19 will be different from what was before in a lot of different ways. More reliance on technology will be a great trust-building tool, as will tracking, monitoring, and sanitizing.
Transparency: One of the biggest help in trust-building is transparency. Customers arriving in the hotels need to be sure that the hotel is safe for them and their families. They need to know about all the services, sanitation, occupancy or equipment of the hotels. A simple application that updates people on how their laundries are done, cleaning standard of rooms they live in, the safety of the food they're eating, and details on their washrooms sanitization should do the trick. Consider making your identity around cleanliness. If you're clean, be visible.
Maximum Effort: Big hotel chains have always prioritized their cleanliness and hygiene. But they'll have to put in even more effort to maintain an impeccable standard of hygiene. Hotels can promote the use of UV lights, as it detects even the slightest of unhygienic corners. Sanitizers have to be made more readily available than before, preferably among high-touch, unavoidable areas like elevators, unless they are foot operated. Wipes and towels should also be available (with proper packaging) for customers, in case they want to wipe down areas or corners of their room to their satisfaction.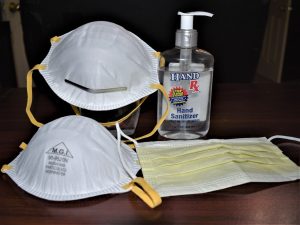 Constant updates: The battle against COVID 19 is long. And thus, constant monitoring, tracking and validation of all the guests are necessary. People should know that their co-travelers and co-dwellers are safe to be with. Moreover, if anyone is found COVID 19 positive, they should be treated with proper care, and the other visitors informed accordingly.
Long-term planning: Hotels should also aim at targeting millennials, preferably by offering big discount coupons or add-ons. Technologically, millennials are a lot well informed. Though there is no trust barrier between technology and people from any generation now, millennials are more likely to understand these, as they are born into the technological age. This would then shift the focus of millennials from BnBs and homestays, benefiting hotels in the long term.
With overall priorities sorted out, hotels must also look at the specific areas in which they can target and flourish, generating revenue even in times like these. First, let us see what they are doing right now and how much of this they can incorporate into life after COVID 19.
What hotels are doing right now? 
Hotels right now are closed for business. Some of them that are open are being used by local governments for travelers during the emergency and converted into quarantine facilities with enhanced security protocols. Hotels all over the world have started vigorously practicing hygiene policies of hospitals and wellness centres. With mandatory mobile check-ins/check-outs instead of the usual front desk services and long lines, cashless payments, online menus, online orders and no concierge access to rooms, hotels are trying for true contactless service.
All of the still operational hotels have their policies in line with the government's guidelines. Some of the big hotel chains in India have updated their detailed list of protocols, available for public view. Some have partnered with the world's leading testing, inspection, and certification agencies to validate their protocols and efforts. From details about front desk services to door services to back offices, every info is readily available on their website. This is appreciation worthy and is a very useful trust-building practice during current times.
Public areas like restrooms, elevators, lobbies, etc. are constantly being cleaned with hospital-grade disinfectants and procedures. The dining experience, if operated, are planned to be thoughtfully curated keeping in mind limited gathering in restaurant areas and other restrictions for safety.
Apart from all these services provided directly for the customers, big hotel chains are also collaborating with online portals like Zomato and Swiggy to deliver the food prepared by the hotel. Now while this does not affect the brand image of hotels, it is a handy way to generate revenue and most importantly, to build trust in the audience, which will eventually help in the long term.
The policies that are being followed right now, including the transparency and the use of technology to minimize contact, are definitely applause-worthy. In addition to these, hotels can aim for a certain idealistic goal to earn the trust of their customers, to stay relevant after all this ends and to improve for better. Let us look at what hotels can aim for.
What hotels should aim for?
In order to win back the trust of people, and to make them feel safe in accepting hotels again, hotels will have to boost the experience to a completely new and safe environment. They should know that people are not going to backtrack to the previous version. At least not at once.
Therefore, in order to build trust, hotels will have to aim for a completely contactless, technology-driven experience. However, because the hospitality industry requires the host to be ever available for the guests, this is surely going to be a challenge.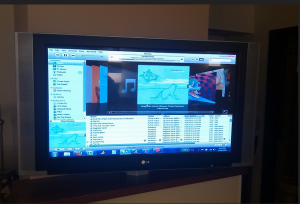 This is where a useful, trusted, and secure staff safety comes in. Although big hotel chains and standalone hotels have an already enthusiast and caring professional team, an extra bit from their part is expected. Enhanced sanitation and hygiene have to be promoted and made a priority even if it means a slight setback to the business. Because first things first, it is not renovating a hotel business to suit hygiene. It's starting a health-first business that provides hotel requirements too.
In addition to able staff service, hotels should build more video conference rooms, to compensate for the touch experience that they are cutting off. These rooms can act as virtual lounges. Integrated artificial intelligence systems with digital assistants, voice-activated services and concierge robots should be promoted. Efforts should be made to control room temperature, lightings, lunch and dinner scheduling and answering critical queries with the help of AI.
Although it may sound far-fetched, some hotels in the US have already been trying on an AI relay room service. As soon as the order is placed, hotel staff load items into a relay, which then navigates around the property using Wi-Fi, on-board cameras and sensors. Guests can then retrieve items from within the robots storage compartment when it reaches their door, thus minimizing the contact.
Big hotels have also been trying this on the luggage section. From a practical perspective, someone would still have to open car doors and remove luggage from the vehicle. But a robot could then take over – swiftly transporting luggage to the guest room.
Embracing technology and integrating it into the lives that we plan ahead will definitely build trust during the times to come. Replacing the front-desk human touch with an automated service is surely going to help people trust the hygiene and safety procedures of the hotel. However, it will have its own limitations. It will undoubtedly be missing the warmth of a smile upon reaching the hotel at the end of a long journey. Similarly, a robotic concierge will never be able to match human empathy and warmth. Nevertheless, it definitely lessens the risk of contamination, which is essential right now.
We might have to compromise our longingness for a warm, familiar and courteous smile for some time now. However, at the end of all this, I am positive that hotels will emerge as a sophisticated, empathetic, secure and cautious industry completely transformed by technology. Thus, as is the demand of time, hotels must adhere to machines for a trustworthy service right now and brace themselves for an unfamiliar yet exciting tomorrow.
Ram Gupta, a hotel management graduate is also a certified Hotel Administrator from U.S. and MIH from U.K. He has over 40 years of sound experience in the Hospitality industry in India, Dubai, U.K, Europe and Japan and is well versed with all areas of business including acquisitions, mergers, joint ventures, diversification, strategic planning, development and operations. He has been associated with over two dozen luxury and boutique hotel projects and has launched two hotel chains in India. He is currently an independent hotel consultant and could be contacted at ramgupta@bcgglobal.com. Website: www.bcgglobal.com
BOOKS ON HOSPITALITY INDUSTRY BY RAM GUPTA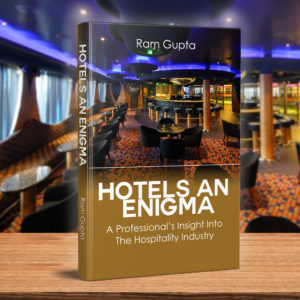 LATEST PUBLICATION: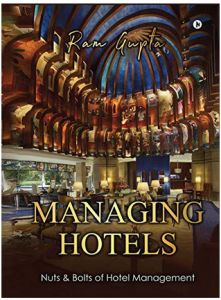 AVAILABLE FROM:
ALSO ON,-
AMAZON KINDLE, KOBO, GOOGLE PLAY & i BOOKS
BOOK STORES IN INDIA 
COFFEE CUP – SECUNDERABAD, CROSSWORD – BANGALORE, PUNE, JAIPUR & NOIDA, GANGARAMS – BANGALORE, HIGGINBOTHAMS – BANGALORE & CHENNAI, MODERN BOOK STORE – TRIVANDRUM, ODYSSE – COIMBATORE, OXFORD – DELHI & KOLKATA, STORY BOOK STORE – KOLKATA, TITLE WAVE – MUMBAI, WRITERS CAFÉ – CHENNAI