The idea of being able to catch up on work while being on a holiday is not a new concept, but it was usually limited to a few highly ambitious and workaholic professionals. What was referred to as a workliday in the beginning of this decade, has now been catalyzed by the pandemic, snowballed by the crisis, and rechristened as a workation (or workcation).
However, if you look further back, creative minds of all times have chosen to move away from the hustle and bustle of society to reflect on ideas, find artistic inspiration or delve into their mind palaces. Rabindranath Tagore penned down parts of his Nobel Prize winning "Gitanjali" while staying in a holiday home in Uttarakhand. Rudyard Kipling and Ruskin Bond found their calling in the foothills of the Himalayas. Even the Beatles took the path of self-discovery away from the confines of their homes. It may not have been a trend then, but it is in our innate nature to find solace and motivation from what is on the outdoors.
What workations mean in the pandemic-era
While change is inevitable, the shift imposed by the pandemic has startled the entire world. Amid the prevailing negatives that have engulfed our lives, it has become challenging to stay driven, maintain productivity, and achieve the same levels of efficiency as before.
Workation is a boon for those who are working remotely, but are starting to show signs of fatigue now. Switching to the comforts of a much more pleasant environment, where health and safety is not a concern, yet being able to continue working without interruptions, is definitely a welcome change. Once, such an option would have been far-fetched; now it is an option offered by more and more hotels across the board.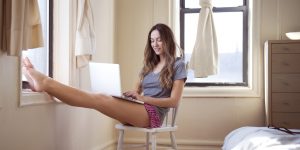 With these new developments, the traditional marketing strategies of the hospitality and travel industry may no longer apply for a while. For starters, the seasonal nature of travel has more or less perished. If the main aim is to work from a scenic location, people are not going to be too fussed about peak season or off seasons. Similarly, holiday or weekend-oriented approaches are fading too, with people looking at long-term workation options.
Nevertheless, instead of being daunted by these changes, hoteliers should look at this as a dream opportunity they never had before. While business or leisure travel may have been the major sources of revenue generation for them in the pre-pandemic era, workations are just what you were looking for to get you back on your feet. Think of long-haul stays, minimum interaction, marginal utilization of resources, and the higher revenues.
Hospitality to Workspitality—A changing dynamic
The pandemic has stirred any kind of normalcy that we knew of, and the hospitality industry has definitely taken the worst hit. Although we are yet to see how the situation develops when it comes to international travel, with Indian states relaxing their policies, domestic travelers are cautiously stepping out of the their homes..
Adapting to the needs of these guests, major brands and boutique hotels alike have adjusted their operations – offering staycation or daycation packages and allowing them to break the months of monotonous work-from-home regime. A high-speed internet, power-back up and a designated work desk are the essentials that a traveler looks for in a workation. Privacy, cleanliness and stringent health, safety and hygiene protocols are of course critical. A few adjustments to the existing amenities and service policies have certainly helped hoteliers to appeal to a new clientele that has emerged from the ripple effects of the pandemic.
A little something for everybody
The spectrum of Workspitality is not just limited to individuals seeking a retreat from an unexciting working from home regime. With more than one family member caught in this involuntary arrangement and schools choosing virtual learning over classroom education, a planned workation is a way to spend quality time with the loved ones despite the adversities of recent time. Facilitating the routine of everyday office work with the conveniences of a professional environment while providing safe and interesting activities to individuals or a group of travelers is like getting two giggles from one tickle!
In a prediction for the upcoming months, booking.com estimates that workcation will not be limited to a couple of days, but is likely to extend over weeks or months. Moreover, travelers will look at not just retreats located at drivable distances from their cities: they will set off further on to offbeat locations. Working remotely, from a remote location.
Although a high-speed internet connection is the most sought-after amenity for a workation, it is no longer just limited to that. Travelers are also looking for packages that encompass other components of a vacation. There are a lot hoteliers could experiment with. It can be an alfresco spread for lunch break or a simple walking trail near the property for short breaks between works. Curated experiences to engage kids while the grown-ups are set for the work day or special weekend activities like hiking and camping. If your hotel serves cuisine unique to the region, you can encourage your guests to learn a local recipe. For the wellness enthusiast, yoga and meditation sessions would work very well. Travelers will be looking for various ways of reconnecting with nature, with loved ones and with oneself, so hotels will have to reinvent their rejuvenation quotient away from the regular spa and massage therapies. Keeping safe distance in mind, workationers will also look for forming better lifestyle habits, boost immunity and unwind, all while maintaining the regular work schedule.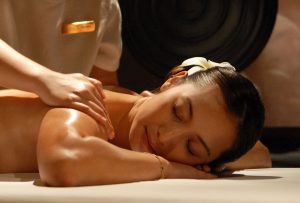 Village homestays, boutique hotels, wildlife lodges and wellness retreats do have an edge as their existing infrastructure resonates with the workation requirements that travelers would seek. They are spread out, accommodate limited occupancy, and have quieter surroundings. As an hotelier, you have to be mindful of what you lay on the table and how you put the word out. It is also important to assess the local social and natural environment you are in and evaluate the results of vacationers' visits. Being sensitive to the needs of the traveler, ensuring safety of guests and staff alike, and implementing sustainable operational practices will continue to be crucial going forward.
This makeshift option of offering workations has the potential to convert from temporary occupancy to a more permanent travel classification altogether – tailoring the existing experiences by aligning the norms of the present settings with high standards of services/amenities. To gain the confidence of prospective travelers, hotels should start offering transparent and flexible terms of bookings, modification and cancellations. Add-ons such as the availability of a health care provider in case of emergencies, insurance coverage, elderly care facilities, and pet friendly solutions for the duration of stay will encourage a broader segment of workationers to choose a retreat.
With survival instincts kicking in, the hotel industry has been able to diversify their offering, whether it be city hotels repurposing their spaces to cater to working professionals or curating safe experiences most effective to their specific destinations. While 2020 may be a year all of the hospitality industry would like to happily leave behind, there are lessons that can be learnt from the crisis going ahead. It will be important that hoteliers anticipate the needs of potential guests, and strategies their marketing campaigns accordingly. Stringent housekeeping protocols, health and well-being of the staff will have to be priority, and flexibility to meet the requirements of travelers will play an important role in sustaining the business.
While it will be difficult for gadgets to match human interaction, it will be interesting to see how contactless services will be developed to convey warmth of personalized hospitality. Innovation and sensibility will have to go hand-in-hand. Hoteliers have to be cautious about their offers and messaging as an attractive discount will not be the only criteria travelers will look for. A combination of meaningful experiences, along with privacy and work-friendly set up is the way to go forward.
Ram Gupta is a hotel management graduate. He is a certified Hotel Administrator from U.S. and MIH from U.K. He has over 40 years of sound experience in the Hospitality industry in India, Dubai, U.K, Europe and Japan and is well versed with all areas of business including acquisitions, mergers, joint ventures, diversification, strategic planning, development and operations. He has been associated with over two dozen luxury and boutique hotel projects and has launched two hotel chains in India. He is currently an independent hotel consultant and could be contacted at ramgupta@bcgglobal.com. Website: www.bcgglobal.com
BOOKS ON HOSPITALITY INDUSTRY BY RAM GUPTA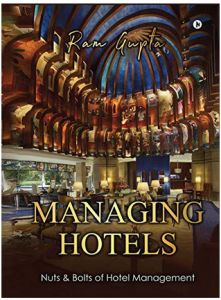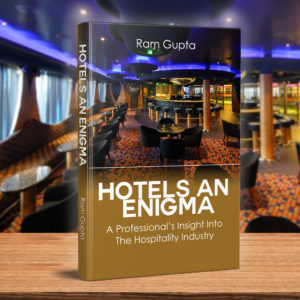 AVAILABLE FROM
ALSO ON,- 
AMAZON KINDLE, KOBO, GOOGLE PLAY & i BOOKS
BOOK STORES IN INDIA 
COFFEE CUP – SECUNDERABAD, CROSSWORD – BANGALORE, PUNE, JAIPUR & NOIDA, GANGARAMS – BANGALORE, HIGGINBOTHAMS – BANGALORE & CHENNAI, MODERN BOOK STORE – TRIVANDRUM, ODYSSE – COIMBATORE, OXFORD – DELHI & KOLKATA, STORY BOOK STORE – KOLKATA, TITLE WAVE – MUMBAI, WRITERS CAFÉ – CHENNAI