If you have a very hectic work schedule and spend several hours a day at your desk, you may be wondering if you'll ever be able to get started with your weight loss goals. The good news is that it is possible to lose weight fast, in spite of your busy lifestyle. Consider some of these tips.
Blend Exercise into Your Life
If you want to get slim, there is no shortcut to exercise. No matter how well you control your diet, exercise is what will help you burn extra calories and keep your metabolic rate high. However, getting exercise does not necessarily mean that you need to spend hours in a gym. Instead, you can simply blend exercise into your routine in many different ways without compromising your work.
Climbing Stairs
Do this wherever and whenever you can. Each step that you lift yourself against the force of gravity, you not only burn calories, but also strengthen your core and leg muscles and your cardiovascular system. So, if you have an office on the eighteenth floor, you can at least walk up a part of the way. As little as ten minutes of climbing stairs in a day can burn anywhere between 60 to 85 calories, depending on your weight.
Once you get used to climbing stairs, you should gradually increase your speed and the number of stairs you climb. So, if you have been climbing up to the fifth storey regularly, make it the sixth in the next couple of weeks. With this little addition to your lifestyle, you will start feeling stronger as well as burn more calories, and at negligible cost, as far as your work time goes.
Walk
Yes, it is as simple as that. You don't have to wait to buy that pair of tracks and running shoes and motivate yourself for a morning jog. If you can simply incorporate a few spells of brisk walking into your daily routine, it will amount to significant exercise and help you lose weight fast. For every mile you walk, you will be burning anywhere between 70 to 120 calories, depending on your speed and body weight. You could park your car two blocks away from your office and walk the last part; you could even walk down to get your groceries or do your shopping. Perhaps when you are talking on your phone next and expect it to be a long call, walk while you chat. It all adds up!
Other Workplace Suggestions
If you live near your office, you could get a bike and cycle down to work. It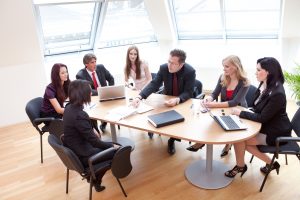 is great fun and burns a significant number of calories too. There are even a wide range of weight loss exercises you can do sitting at your desk, such as chair squats, wooden leg and chair dips. There is another article devoted completely to this topic.
While Working From Home
If you work from home, you can get more innovative with your exercises. To begin with, for a certain part of your day, you could replace your chair with a fitness ball. Sitting on it will engage and strengthen your core muscles, burn more calories and improve your posture and balance. you could even hoist your laptop in front of your treadmill and work as you walk. If you do this for a couple of hours every day, you could easily lose about one kg every month.
If you have decided to practice any of these weight loss tips, make sure you regulate your diet too. Stay focused and positive and don't expect overnight miracles!