Ask any traveler and he will tell you this – wining and dining are an integral aspect of travel experiences. In fact, few journeys can be said to be complete unless it includes a healthy amount of indulgence in the delights of the local cuisine? But most travel-enthusiasts don't count on their hotel to satiate your culinary desires. They turn to various local restaurants across the city to tickle their taste buds.
For a very long time, F&B options were secondary concerns for the hotel industry, an offering thrown in as an afterthought. Very little consideration was given to designing on site restaurants, and they generally ended up looking like extensions of the lobby. The menu was put together in a careless manner and the dishes that ended up on your table were nothing to write home about. Hotel restaurants were overpriced and underwhelming, causing travelers a lot of disappointment.
But not anymore.
The hospitality industry has gone through immense change in the last decade or so, and with it has evolved the F&B options that hotels offer. A lot has to do with advancements in technology and Internet and social media becoming more accessible. In this tech-savvy world where guests can immediately check the ratings of a restaurant, successful as well as emerging hotels cannot afford to provide mediocre dining.
As a result, a great deal of thought is now being directed towards a hotel's F&B offerings. Top designers are being hired to construct spaces that have a unique presence and the menu is put together after careful consideration. Upscale brands are taking on new risks and leading the movement towards change, which in turn has encouraged newer brands to follow in their footsteps, hoping that the risk will pay off. Previously, getting owners to invest in talented restaurant and bar professionals was very difficult, but today, hotels are increasingly investing in creating an eclectic menu to suit all kinds of taste buds.
But why, you may ask? Why do hotels need to go to such lengths to restructure their F&B services? Why does it matter if guest eat on-site or somewhere else? Here's why …
The Importance of Quality F&B Options
To me, it feels almost counterintuitive that hotels wouldn't give their F&B department due credit when there are so many arguments in its favor. To begin with, good meals are an important part of any stay, and hence they shouldn't just constitute as 'eating', but should be thought of as 'dining'. Where 'eating' is a necessary part of one's daily life, 'dining' is meant to be a memorable experience that should be relished. And if a hotel is able to successfully deliver such an experience, its approval ratings are likely to soar among guests.
Secondly, dine-in options are important for guest engagement. When you're at a hotel, you obviously don't spend a lot of time at the reception or front desk, and have little or no interaction with the hotel staff. But when you're dining in the hotel's restaurant, you get ample time and opportunity to have a conversation with the members of the staff. This gives hotels the chance to know their guests better and retain their loyalty.
Lastly, great food and beverage generates a lot of profit and brings more money to the property. Earlier, hotel owners were apprehensive about putting their money into an on-site restaurant, thinking that it would eat into the hotel's profits. But that viewpoint is slowly fading away now. People in charge are realizing that what differentiates a full-service hotel from a limited service one are quality food and beverage options. And the money being made by restaurants more than speaks in favor of investing time, money, and thought into this endeavor.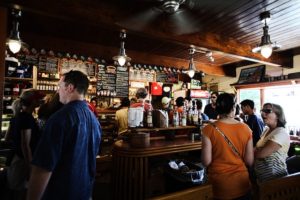 Major F&B Trends in the Hospitality Industry
The renewed interest in food and beverage has prompted many in the hospitality industry to partner with food-focused startups and local suppliers to bring in new elements to their food service. Here are some of the latest F&B trends that have been gaining popularity:
Open Kitchens: While open kitchens aren't a new concept, they weren't seen prominently in hotels. However, the landscape is changing fast, and open kitchens are becoming increasingly popular, as guests get to see chefs in action. For example, at the Miller's Guild in Seattle's Hotel Max, the most popular seat is at the chef's table that overlooks an enormous wood-fired grill. Ten lucky people get a seat at this table, from where they're able to witness award-winning chef Jason Wilson working his magic. 
Love for the Local Cuisine: Seeing celebrity chefs at hotel restaurants isn't an unfamiliar sight, but counting on big names isn't always a safe gamble. Today, you're more likely to see a hometown name manning the kitchen, creating local dishes that appeal to travelers looking for an authentic culinary experience. For example, when CBD Provisions took over the space previously occupied by Charlie Palmer Steak at the Joule Hotel in Dallas, they replaced formality and the big cuts of beef with a rustic big city brasserie look, which went on to be a big hit. 
On-the-Go Meals: Reports show that more than 90 per cent of the consumers indulge in snacking multiple times throughout the day and many guests love to get little treats, like cookies and cupcakes, at check-ins. While limited service hotels are often fully stocked with snacks and simple meals, their full-service counterparts are looking to expand to more elaborate snacking and on-the-go meal options. The World's Largest Hotel, the Orlando World Center Marriott, now has a Central Pantry as part of its half a dozen dining options, which is open from 6 AM to 2 AM. The pantry includes everything from grab-and-go snacks to fresh bakery items, salads, coffee, frozen yogurt, smoothies, craft beer, wine on tap or in bottles, and much, much more.
Wholesome Breakfasts: Breakfast is the most important meal of the day, especially for travelers who are far away from home. That's why getting free breakfast is an extremely important factor when it comes to selecting hotels. Travelers say that hotels offering complimentary breakfasts are a lot more desirable. Take for instance breakfast options at California's Hyatt Regency Huntington Beach. They are based on the latest trends from Pinterest and Instagram, including breakfast parfaits, superfoods-packed bowls, and chia-pudding pots served in mason jars topped with berries and edible flowers. It's no wonder that they're booked all year round!
Food has always been an integral part of the travel experience, and more and more travelers are looking for hotels that keep their food and beverage offerings on priority. Data shows that 55 per cent of consumers claim that food, drinking, and dining options are crucial to them while choosing a hotel, while one in five consumers saying that food and beverage options are 'extremely important'.
Also, with social media providing feedback on everything, hotels can't afford to provide mediocre offerings. They have to keep pace with the latest trends, because their guests are just a few reviews away from selecting their competitor. Well-aware of this increasing demand for convenient, personalized and high-quality food and beverage experiences, hotels are fast making the shift from traditional dining options to the current innovations in the dining landscape.
Ram Gupta, the author is a hotel management graduate from India and Germany; He is a certified Hotel Administrator from U.S. and MIH from U.K. He has over 40 years of sound experience in the Hospitality, real estate industry in India, Dubai, U.K, Europe and Japan and is well versed with all areas of business including acquisitions, mergers, joint ventures, diversification, strategic planning, development and operations. He has been associated with over two dozen luxury and boutique hotel projects and has launched two hotel chains in India. He is currently an independent hotel consultant and could be contacted at ramgupta@bcgglobal.com. Website: www.bcgglobal.com
Now in Book Stores…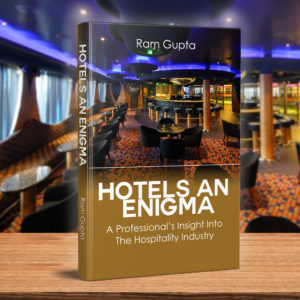 ISBN NUMBER: 978-1-64249-769-4