A restaurant menu does a lot more than offer your guests a list of food and drinks to order from. A well-designed menu can significantly enhance guest experience and set the mood for his culinary journey from the moment he comes and sits at your table. If you're investing considerable thought and effort into designing the look and feel of your entire restaurant, don't overlook an equally important factor – the presentation of the menu. You've got to make a strong impression on your guests from the word go, but that isn't the only reason why a menu should be given due attention. It can also contribute towards designing the kitchen and the layout of the bar, which can deliver effective storage, productivity, and preparation.
If you're convinced about the importance of having a strong menu, let's look at the process of creating one.
Step 1: Put some thought into your menu concept
Every good restaurant that you've ever visited has that 'best one thing' going for it. It could be the spicy pasta, the juicy steaks, the fusion cuisine, or its amazing selection of desserts. Whatever it was, it stayed with you long after you'd finished your meal and left the restaurant.
To make a strong menu concept, you have to think long and hard about what your restaurant's USP will be. What will it be known for? What will set it apart from the crowd? But avoid getting too ambitious. Crowd your menu with too many things and it will cause unnecessary clutter. Guests don't like being overwhelmed by too many choices. They prefer to make a decision within 2 minutes of picking up the menu.
Don't complicate life for them. Keep it simple and have select offerings. Make a list of items you'd like to feature in your menu. If you notice that it's running too long, narrow it down and make it more focused.
Step 2: Decide on a list of core ingredients
Once you've decided on the main concept, you have to move on the making a list of the actual ingredients that will bring the wow factor to the menu.
Why is this important? And why do you need to do it so early in the menu designing process? To figure out your supply chain.
Once you've identified the core ingredients, the next step is to figure out who your suppliers are. It stands to reason that the more exotic ingredients you have on your menu, the more limited your vendors are likely to be. On the other hand, if you're sourcing locally grown and readily available products, the supply chain will become that much easier to manage.
It's always advisable to work with what you've got. When you source from the food artisans in your area or meat from smaller, home-grown units, you not only cut down on expenses, but also encourage the local community and give them business. Furthermore, working with locally available food cuts down the risk of ingredients running out of stock due to bad weather or delay in shipment, which could, in turn, throw your menu planning out of whack and leave your customers less than happy.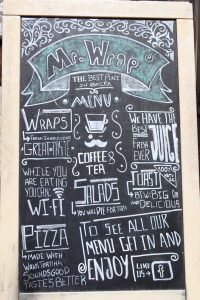 Step 3: It's time to do the costing
You've got your concept. You've identified the core ingredients. You've worked out the supply chain, too. Now what?
Now it's time to bring them all together and see what your menu is going to cost you and your guests!
Doing the costing easy is a fairly easy process. You could use a recipe management program or rely on the good old excel sheet and enter the data at hand into it. This process allows you to analyze the portions of the menu, the ingredients associated with each item, the supplier's cost, and other related factors. This, in turn, will help you price the menu items in a way that suits your target audience and the local economy. At the same time, you will be able to work out whether there's good balance in the pricing with regards to your competitors and how much profit you'll be making after you've factored in everything else.
This exercise (which will go through several rounds of trial and error, mind you!) is an important one and answers several important questions. Are you being too ambitious with your menu? Will your audience be able to afford you? Are you charging a lot more or less than your competitors (Which might affect consumers' perception) about you? And finally, what will you be making at the end of the day for all the effort you've put in?
The final stage of the menu planning process is running a test kitchen to see if the menu items actually meet and exceed your expectations. Make it, plate it, tweak it and bring in other people (friends, relatives, a small group of target customers) to give you feedback. Based on their reactions, modify the menu a little more before you do the final launch of your restaurant. And because you've been so thorough, I have no doubt that your menu will certainly grab everyone's attention. All the best!
Ram Gupta is a hotel management graduate. He is a certified Hotel Administrator from U.S. and MIH from U.K. He has over 40 years of sound experience in the Hospitality industry in India, Dubai, U.K, Europe and Japan and is well versed with all areas of business including acquisitions, mergers, joint ventures, diversification, strategic planning, development and operations. He has been associated with over two dozen luxury and boutique hotel projects and has launched two hotel chains in India. He is currently an independent hotel consultant and could be contacted at ramgupta@bcgglobal.com. Website: www.bcgglobal.com
NOW AVAILABLE IN INDIA AND GLOBALLY FROM: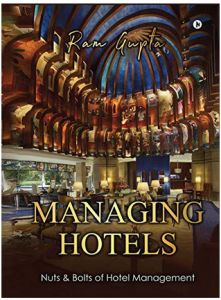 ALSO FROM,- 
AMAZON KINDLE, KOBO, GOOGLE PLAY & i BOOKS
BOOK STORES IN INDIA 
COFFEE CUP – SECUNDERABAD, CROSSWORD – BANGALORE, PUNE, JAIPUR & NOIDA, GANGARAMS – BANGALORE, HIGGINBOTHAMS – BANGALORE & CHENNAI, MODERN BOOK STORE – TRIVANDRUM, ODYSSE – COIMBATORE, OXFORD – DELHI & KOLKATA, STORY BOOK STORE – KOLKATA, TITLE WAVE – MUMBAI, WRITERS CAFÉ – CHENNAI