As the travel and hospitality industries are on the path to restart after months of unprecedented, standstill, ensuring seamless traveler experience will be even more crucial for hotels. It is obvious that the diaspora of travel behavior across the world will change. The stress travelers have experienced because of uncertainties, cancellations, and unclear refund policies at the wake of the pandemic was immense. They will now be even more careful about their choices. They will have a greater understanding of their travel needs and seek out hotels that can match or exceed their specific service expectations. At the first hint of a bad experience, they might even leave a brand they've been loyal to for years.
You probably understand by now that in the post pandemic travel era, cleanliness, health and safety will take the front seat. But, as a hotelier you have to be mindful about the untold expectations, as the slightest miss would take your customer loyalty and branding downhill. The guest experience that you provide will be a turning point for your hotel in the new era of hospitality.
How can you take your hotel's guest experience up by a notch? Have a look below:
Customers are your first priority
While there are a lot of variables that will now impact people's travel decisions, tending to their convenience will set you apart from the others. You have to be extra flexible in your policies to convey that you are considerate about their concerns. Travelers will prefer to book a hotel that is ready to accommodate their requirements. Clearly communicating about the ease of choosing you will bring the traffic to your side.
For example, it may seem that you are losing out on your revenues by not relaxing charges on last minute cancellations, but in the long run this will reap you the benefits. You will be able to retain the trust of your customers and can count on word-of-mouth publicity and referral business coming your way too.
Customer experience will be more than just services
The pandemic has influenced the customer service dynamics in a great way. Quick delivery of services, transparency to your policies and immediate feedback are inevitable changes. You have to adjust your hotel's processes to swiftly resolve issues, especially when it comes to cancellations and refunds. You will have to be conscious that customers will no longer be adherent to discrepancies in your policies. A study by Microsoft reported that for 96% of the consumers, customer service plays a significant role in their choice of loyalty to a brand. While the statistics are not exclusive to the hospitality industry, the higher percentage clearly indicates that customer experience is pivotal to the decision-making process.
But what will play a very important role in customer experience is making it more humane. If a situation or query requires more time to resolve, ensure that your customer service team tends to them with an acknowledgement and provide them with a tentative timeline if possible. At the same time, being mechanical on your communications will backfire. Care and empathy towards your customers will help you gain and strengthen their loyalty for you.
Everyone is a competition for you
You are not just in competition with another hotel of your service standards. The benchmark of expectations will be based on every service that the customers have experienced. Even if it is outside the hospitality industry, customers will compare their experiences of buying a product to staying at your hotel. If you are unaware or reluctant to deliver to those standards, it could translate to become a reason for both new as well as long-standing customers to switch from your hotel. This will negatively impact customers' loyalty and goodwill of your hotel in the long run.
Apart from customer experience, you will most likely face competition from high-end hotels, who are willing to bring down their tariff to a lower price bracket to attract your segment of customers. Retaining customers loyal to your brand may become all the more important. While you may not be able to compete with these ghost competitors, adding a recall value to your services will help you influence customers to take the final call in your favor.
Focus on gaining customer loyalty
Customer loyalty is a direct positive impact of high-quality customer experience that you provide. To retain an existing customer will cost you at least 6x times lesser than attracting a new one. Additionally, your brand patrons are 5x times likely to re-purchase a product or service and 4x times likely to send a recommendation to a friend. The ripple effect is just what you might be looking for.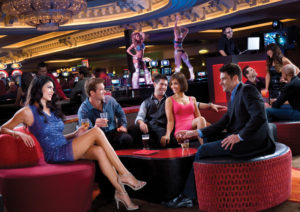 In the post-Covid era of hospitality, people will be ready to spend an extra amount for the desired services but may also shift to a different hotel, if your hotel doesn't meet their expectations. It is understandable if you are focusing your efforts on procuring bookings at this stage. But you also have to focus on the post booking experiences to ensure customer retention. Once a booking is confirmed, and you have the customer details in your database, follow up with a personalized note that says you are awaiting to serve them. You can also take a survey of their preferences, prepare for their arrival with customized services for them.
However, the most important aspect is to provide excellent services while they are in-house. There is no comparison to in-person human interaction, but given the times, you have to tread carefully. Respecting their privacy while also making them feel safe, you have to ensure that guests have the best experience when staying in the property. Tending to the in-room requests, you have to ensure that your delivery is impeccable, with minimum turn over time. Irrespective of your occupancy rate of the day, your staff should be equipped to pay extra attention to each and every customer, so that their loyalty is embedded with your brand.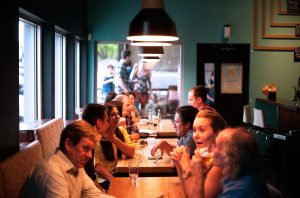 The pandemic has affected people at individual and organizational levels, recovering from the setback will require time and extreme patience. Travelers will slowly start trusting the service providers again. But to ensure that, hotels will have to consciously and continuously work towards sustaining the faith that the customers had on them. Your post-pandemic customer service policies will have to evolve from what it was before. First by recognizing the deficits, second by implementing processes to reverse them. You can start by sending out surveys to your existing especially repeat clientele to understand their expectations. One step at a time, you will have to be ready for the new language of customer experience and customer satisfaction.
Ram Gupta is a hotel management graduate. He is a certified Hotel Administrator from U.S. and MIH from U.K. He has over 40 years of sound experience in the Hospitality industry in India, Dubai, U.K, Europe and Japan and is well versed with all areas of business including acquisitions, mergers, joint ventures, diversification, strategic planning, development and operations. He has been associated with over two dozen luxury and boutique hotel projects and has launched two hotel chains in India. He is currently an independent hotel consultant and could be contacted at ramgupta@bcgglobal.com. Website: www.bcgglobal.com
HOSPITALITY INDUSTRY BOOKS BY RAM GUPTA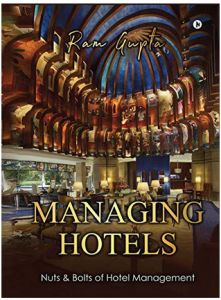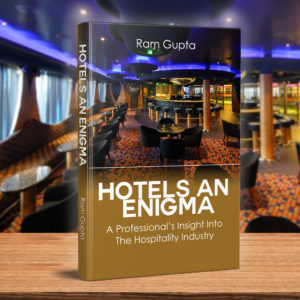 ALSO ON,-
AMAZON KINDLE, KOBO, GOOGLE PLAY & i BOOKS
BOOK STORES IN INDIA
COFFEE CUP – SECUNDERABAD, CROSSWORD – BANGALORE, PUNE, JAIPUR & NOIDA, GANGARAMS – BANGALORE, HIGGINBOTHAMS – BANGALORE & CHENNAI, MODERN BOOK STORE – TRIVANDRUM, ODYSSE – COIMBATORE, OXFORD – DELHI & KOLKATA, STORY BOOK STORE – KOLKATA, TITLE WAVE – MUMBAI, WRITERS CAFÉ – CHENNAI