Millennials love to flaunt. They are fascinated by limelight and approval. One such attraction for this generation is traveling and sharing their travel stories online. What they did, where they went, the people they met, the food they ate all come together to make an interesting narrative.
According to the 2016 'Millennial Brief on Travel & Lodging' from FutureCast, Millennials spend more than $200 billion annually on travel and this amount is only set to grow as the generation reaches its most lucrative spending years. In fact, according to a survey, Millennials prefer travelling and posting pictures online rather than paying off student debt. It's placed higher than purchasing big-ticket items, starting a family of their own, or even improving relationships with family and friends.
Millennials don't spend their money on cars, TVs and watches. They prefer to rent scooters and tour Vietnam, rock out at music festivals or undertake a gruelling hike to Machu Picchu.  "Traveling is a part of their identity-a vital experience that helps them understand, grow and continuously reinvent their sense of self," FutureCast reported. The past generations used fashion and footwear for self-expression; millennial favour a well-stamped passport in their pocket, instead.
In addition to traveling, people of this generation want their friends and virtual friends to know their #BeenThereDoneThat stories. Hence, a new millennial trend, of 'travel bragging' on social media has been booming. Facebook and Instagram are their platforms of choice to post their #TravelTales. These travelers are constantly glued to their smartphones, trading in their #TravelBrag for 'Likes'.
In a survey, about 30 per cent of the travellers admitted that they spend more time on their phone posting beautiful photos of the scenery rather than enjoying it. When it comes to what these social-savvy travelers brag about the most, #FoodPorn, is the top-ranked category.
Being a self- obsessed generation, the Millennial is addicted to photo editors, filters, and selfie-sticks. On holiday, two out of three Americans would much rather click a selfie than a group picture with loved ones. Not only that, 60 per cent of USA's young travelers admit to uploading photos, checking in at cool locations (39 per cent) and tracking the amount of interaction and reaction created on their posts (32 per cent) for bragging purposes while on vacation.
The new global research has also proven the long-debated theory that romance really is dead, with 14 per cent admitting they would prefer to travel with their smartphone rather than their partner. 15 per cent travellers said they were more anxious when their phone or camera battery died than when they were arguing with their partners on a trip.
This bragging, self-obsessing and experience-craving attitude of the Millennial travelers is being capitalized on by the hospitality industry.  From the Christmas selfie challenge hosted by Almyra Hotel in Cyprus to a smart hotel app that allows hotel guests to check in by taking a selfie, they're dabbling in new things to grab the attention of these new gen travelers.
Hotel Pennsylvania in New York City took the trend to the next level with the "Selfie in the City" campaign. Guests who booked the package under this campaign were provided daily breakfast for two, a map of New York City (to explore the sights), and a selfie stick to capture the fun. The campaign targeted adventure and discovery seeking travellers. Guests were asked to share their selfies on Instagram with the hashtag #HotelPennSelfie, with the incentive that they could win getaways in the future.
The result: Unimaginable participation, an exhilarating 3835 per cent return-on-ad spend, and a 700 per cent increase in social media engagement, as per HeBS Digital report. Talk about a campaign being a runaway hit!
It's official – Millennial travelers love to be online. In fact, they tend to refuse booking a hotel, if it doesn't offer free Wi-Fi. Daniel Craig, VP of mobile at Hotels.com brand, said "28 per cent of people wouldn't enjoy their holiday without their smartphone in their hand – how could they possibly capture the best selfie or show off to their friends at home without it? Not only that, but we also know that getting the perfect picture plays an even bigger role with 14 percent of travelers admitting they would pose anywhere for that perfect selfie, often putting selfies ahead of safety."
The social-media-centric generation loves to see their surrounding through the lens of Instagram and flavour visual-storytelling. For this reason, the concept of "Instagrammable" spaces is flourishing, and many hotels are creating more "Selfie Points" on their property.
Across the globe, hotels have managed to master the Instagrammable moment concept. They understand that the meaningful Instagrammable moment can be anything, but it can't be everywhere.  For example,  a few months ago, the Sofitel Paris Baltimore hotel installed an immersive digital video wall, to create an entirely integrated entertaining, informative and interactive welcome wall. This intuitive tool kept visitors engaged while hotel staff easily managed and updated the bookings. Most importantly, it provided the perfect spot for guests to take their all-important selfies.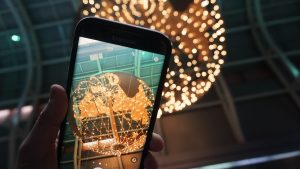 Hotels are moving into the world of compelling images and interesting captions. They are providing opportunities to their consumers to share emotionally and visually rich images that also convey meaningful stories about the brand. These experiences need not be specific to your hotel or your corner of the world. Consumers are looking for something beautiful, fun, warm, or calming—something that lifts their mood. For them, it's like a treasure that they want to discover on their own. The Instagrammable moment shared online is their way of sharing the secret of a bright and delightful day with their audience. And that's how Instagram users build social status.
Orchestrating an Instagrammable moment begins with setting a mood through lighting, décor, customer service, music and other scenographic elements that carry through to little details that inspire big reactions in guests.
For example, the brilliant ATX lobby sign of Westin Austin Downtown earns a lot of user-generated Instagram posts as everyone wants to click a selfie with the latest music star in the city. Their rooftop pool with panoramic views of the city in the backdrop is also a great attraction to their selfie-loving guests.
Another hotel located in the candy capital of the world, Chicago, gives their customers, Milkduds, the caramel candy. While candy instantly puts customers in a happy mood, the waiting time is utilized to create share-worthy photos that go up on various social media networks, while integrating the hotel into the story.
These moments created at your hotel do more than help your customer make meaningful connections with their loved-ones. They also help hotels increase their digital presence and win goodwill with customers, which eventually translates into increase sales, presence and brand recall. And that's a win-win situation for both sides, isn't it?
Ram Gupta is a hotel management graduate. He is a certified Hotel Administrator from U.S. and MIH from U.K. He has over 40 years of sound experience in the Hospitality industry in India, Dubai, U.K, Europe and Japan and is well versed with all areas of business including acquisitions, mergers, joint ventures, diversification, strategic planning, development and operations. He has been associated with over two dozen luxury and boutique hotel projects and has launched two hotel chains in India. He is currently an independent hotel consultant and could be contacted at ramgupta@bcgglobal.com. Website: www.bcgglobal.com
NOW AVAILABLE ON AMAZON