In the age of Instagram, a picture doesn't just speak a thousand words; it says it all. A hotel whose design is aesthetically appealing will most likely see way more traffic than one that's drab. The parameters of what makes a hotel trendy have been hugely altered by the changing needs and requirements of guests. These establishments are no longer places you sleep in during vacations, but are expected to be destinations unto themselves.
Here are some of the design trends that are on the rise and are bound to become popular in the coming years.
Bid Goodbye to the Crystal and Cashmere
The days of crystal chandeliers, monogrammed stationery, and gold leaf motifs have come to an end. And while the heart wishes to reminisce the days when the Ritz in Paris or the Plaza in New York were the height of what a hotel could be- suave, classy and elegant – we must look forward and move on.
Minimalism, clean cut, and functional are the keywords that every designer should keep in mind while designing hotels, especially the guest rooms. According to Arne Sorenson, the CEO of Marriott, guests no longer want a dresser, closet and desk. All it takes to keep them happy is a big TV, fast Wi-Fi, and a sense of free space. On the flip side, while removing all these amenities does make the space more flexible, they also make the rooms unusable for older travelers.
Concerns like these are what pose a design challenge that calls for a compromise. Interior designers are treading the middle ground between the minimalism desired by millennials and a basic level of practicality asked for by generation Y. And in doing so, they are creating spaces that are a happy union of both.
And then they All lobbied around the (Hotel) Lobby
Hotels seem to be revolutionizing lobbies from waiting areas to places guests seek out. They serve as active workspaces with great Wi-Fi, charging ports waiting to be used, and food and beverage options aplenty. A brilliant example of how a lobby can be reimagined can be seen at the Smyth Hotel in New York where the lobby has been divided into a living room, den, library, and a bar.
Another upcoming trend is Luxe lobbies that bring together socializing, working, and modern art, making for places that are talked about for months, featured in Instagram "stories", and reviewed on portals like TripAdvisor as "great experiences".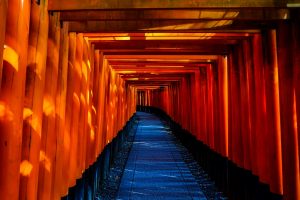 Tech-Tech- Technology!
Technology has slowly sneaked into every part of our lives, including hotels. One of the latest developments is the keyless entry system that allows guests to use their smartphones to unlock their room. Then, there are apps like 'GuestDriven' that lets guests check-in digitally. Technology now controls everything from lights and ACs that can be operated from your phone to smart bathroom mirrors (still in the pipelines).
Each and every one of these innovations are moving hotels farther from a traditional design and closer to a futuristic one that is the stuff of sci-fi novels. A major challenge for designers is to have as many power and USB ports in the room while still keeping to their design plan and not make the room look like an off-putting electronics store.
Mixed-Use Spaces See Much Popularity
From The West Farm in Omaha to the Design District in Miami, and looking closer to home, the Hilton hotels in New Delhi, mixed-use spaces are seeing a boom in popularity. This helps create larger sources of revenue as well as make for more immersive experiences for guests.
When it comes to the façade, it's much more land efficient to build these structures vertically rather than horizontally as you are able to get more use of the space and create a higher density for increased value. The challenge here, in terms of design, is to keep a holistic connect between all the aspects of the centre, ensuring that each space flows into the other without having a forced or inharmonious feel.
Revamping History (because everything old is chic, again)
In the latter half of this decade, we've seen vintage make a comeback – from pocket watches to fireplaces, it's all "in" again. The hospitality industry has kept up with the trend by revamping old buildings and making them hubs where the classical and post-modern amalgamate to form something eclectic, attractive and of course, highly successful!
India is a pioneer of sorts when it comes to this trend with incredible hotels like the Rajmahal Palace in Jaipur, Haveli Dharampura in Delhi, Bhanwar Niwas a Rampuria Heweli in Bikaner and the Gem Palace in Jaipur. While all of these hotels have retained and accentuated their royal history, there are smaller hotels all over the world that have renovated old fire stations, monuments, etc. for end results that are wackier while still holding onto their old-world charm and vintage elements.
As explored above, there are many new and exciting opportunities arising in the hotel world, especially when it comes to designing them. There are two options that designers have here – either stick exclusively to the newer trends of minimalism, technology et all or find a way to coalesce them into a blend of new-age and old-school. And now as an end note, I'd like to say, moving into the future, trends are aplenty and innovation is endless. It's up to us – Do we keep up? Or fall, slowly but surely, behind?
Ram Gupta is a hotel management graduate. He is a certified Hotel Administrator from U.S. and MIH from U.K. He has over 40 years of sound experience in the Hospitality industry in India, Dubai, U.K, Europe and Japan and is well versed with all areas of business including acquisitions, mergers, joint ventures, diversification, strategic planning, development and operations. He has been associated with over two dozen luxury and boutique hotel projects and has launched two hotel chains in India. He is currently an independent hotel consultant and could be contacted at ramgupta@bcgglobal.com. Website: www.bcgglobal.com
NOW ON AMAZON