Hospitality Industry Preparing For Life After COVID-19!
I think we can all agree that life in the time of COVID-19 has been difficult for everyone. No one could have predicted that in a matter of just a few weeks, the world would come to a grinding halt. In an effort to isolate, control, and stop the spread of the disease, travel bans have been put in place, businesses have been forced to close down, people have been told not to leave their homes, and once-bustling cities now look utterly devoid of life.
As the devastating pandemic engulfs the whole world in its grasp, many major industries are preparing themselves for a huge setback. However, with domestic and international travel being restricted, tourism and hospitality industries around the world have taken the worst hit. India has been in a state of lockdown since 23rd March, 2020 and the direct impact is on its travel and hospitality sector. The halting of all transportation systems has resulted in one of the worst revenue dips that the travel industry has seen in years.
The hospitality industry isn't doing any better, with many corporate gatherings, MICE (Meetings, Incentives, Conferences and Exhibitions), leisure meetings and events being postponed or cancelled for the next foreseeable future. As the industry is entirely dependent on travel, trade, and tourism, the massive spate of cancellations in recent weeks have eroded the ability of hotels across India to keep their doors open without piling up worrisome losses.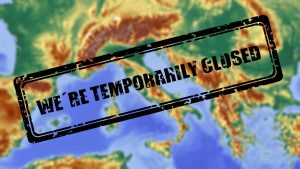 Whether it's a small vendor or a big time tours and travel giant, the cascading effects of COVID-19 on the tourism and hospitality industry has been unnerving, to say the least. However, is the industry capable of sustaining such a hit? Let's find out.
How has COVID-19 affected Tourism & Hospitality worldwide?
As per the World Travel and Tourism Council (WTTC), tourism sectors around the world have been in a state of constant crisis since the outbreak. Reports are that almost 50 million jobs (including 30 million in Asia itself) could be lost worldwide as a result of this pandemic. And this would mean that the travel industry would shrink by about 25% in 2020. Similarly, the crunch in the hospitality sector has put around 4 million jobs at stake worldwide. And the first to see massive layoffs within this industry will be the casual and contractual staff.
Impact of COVID-19 in India
Prime tourist attractions like Rajasthan and Kerala, which are otherwise immensely popular during the summers, have seen almost no turnout in the last two months. Even before India was locked down, the fear and potential danger of corona-virus had resulted in a huge drop in airfare.
According to a report by Confederation of Indian Industry (CII), cancellations for pre-booked trips started around November-December last year and had reached 80% by the start of March. And because of these many previous bookings being cancelled, the tourist season of December-January took a 40-50% hit. There has also been an alarming decrease in newer bookings for the summer season of April-July and these months could brace themselves for a 80-100% impact.
The Indian hospitality Industry is also set to experience a humongous loss of up to ₹620 cr. And the worst blow will be on alternate accommodations (hostels, homestays, bed and breakfast, etc) that make up a good percentage of the industry. The Hindu Businessline reported that overall business and summer vacations will be suffering at least a 25% YoY drop.
While the industry crunch has affected many big travel giants like MakeMyTrip and TripAdvisor, smaller businesses and start-ups are left with no choices but to either close shop or resort to salary cuts.
Steps being taken for the recovery of Travel Industry:
Amidst this crucial crisis, the United Nation World Travel Organization (UNWTO) is taking huge steps to stop the immediate effect that the outbreak has had on the travel and tourism industry. It has called upon governments from all around the world to place the recovery of the travel industry amongst their first priority as soon as the pandemic gets over. It has also strongly collaborated with the World Health Organization (WHO) and is planning to follow the health guidelines issued from WHO while still minimizing the impact of lockdown on the travel industry.
The World Travel and Tourism Council (WTTC) has also suggested that governments from around the globe take basic measures to save the travel industry. This includes the simplification of visas, relaxation of unnecessary travel barriers, reduction of travel taxes and an increase in the allotted budget for promotion of the respective tourism bodies.
COO of VFS Global Regional group in India has also said that the company is planning to lower the visa at doorstep costs for people who are sceptical of going to the VFS offices to pick up their visas. Also, according to some reports, airline services are also likely to refrain from increasing their airfares after all this is over.
What happens to Tourism & Hospitality after COVID-19
Now to the most important question- Where to from here? Even if the lockdown stops in April- May, as it has been planned to, the travel industry will have seen a loss of at least three months of travel. This major revenue cut will be a huge blow on the industry and will require the next ten months to recover, at least.
However, there might be a silver lining under this after all. Paula Froelich of the New York Post says that the temporary halting of travel might bring out the industry more shining than ever. With major factories being shut down, pollution has drastically decreased, making the environment as beautiful as never seen before. People are actually seeing clear skies, clean rivers and breathable air after a very long time. And this has given them the opportunity to be more thankful, mindful and appreciative of their surroundings.
Being confined for a long period of time, people will actually have the time to reflect internally, and make note of the things they've been missing in life. Sometimes, we get so immersed in the statistics that we often forget to enjoy. This lockdown might serve as a self-intervention which might increase the number of tourism enthusiasts exponentially.
One major good thing that might come out from this terrible crisis is the reduction of overtourism. The selective crowd that travels after the outbreak will be enthusiastic, appreciative and more considerate towards any travel destination. They might also be more mindful of their carbon footprint and inclined to reducing their wasteful practices, at least for some time.
In the long term, cleaner cities might emerge as winners here. Because of the scepticism of the ongoing corona-virus, people will be hesitant traveling to densely populated areas, which will, in turn, give cleaner destinations an edge over other tourist places. Also, local destinations, too, might experience a huge rise in tourism as it is both affordable, closer to home and relatively comfortable.
For four and a half long decades that have I been in the industry, observing and understanding how things actually are. Being hopeful and preparing yourself for the long run is essential for the survival of any business. However, you also need to adapt to the situations if you wish to protect your business from the inevitable. Whether you own a small boutique hotel or are the general manager of an independent luxury resort or a branded luxury hotel, there are a number of things you can do to minimize the damages incurred and prepare for the day when we, hopefully, return to some semblance of normality.
How can you minimize the damage impact of COVID-19
Now, this is where marketing comes in. The first and most important thing you should do is figure out your marketing budget. As a general rule of thumb, it's a good idea to not cut down on your marketing budget during times of crisis if you can afford it. Historic data has proven over time that if companies actively market themselves during a time of crisis, they typically gain higher sales and net income than those who don't. If you do have to make some cuts, make sure you do it logically and rationally.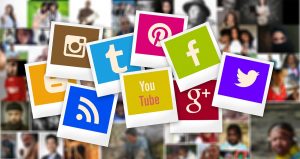 Once that's out of the way, you can start focusing on your marketing strategy. If you're unsure about where to start, don't worry. I'll be taking you through a play-by-play of what you can do next.
During times of crisis, it is an absolute necessity for a brand to have a deep digital footprint, in terms of marketing communications, as this will largely determine its success. Digital marketing is faster, more effective, and less expensive than traditional marketing. A social media campaign can effectively engage your target audience for less than half of the cost of a TV or print ad. Quite wonderful, isn't it?
My first advice to you would be to make the most of this slow period and take it as an opportunity to rethink and improve your marketing assets with an audit. You should also think about keeping a content inventory, if you haven't already, as this will make the process of auditing go over more smoothly.
Now, when you start auditing your content assets, look out for images and high-quality pieces that you can repurpose for other channels, and the types of content that receive the most backlinks or social shares and bring a lot of traffic to your website. You can also work on new calls to action and keywords, add internal links to new services, think about adding fresh content and updating your website as well.
Secondly, make promotional videos. Videos are excellent search engine optimization fodder. Moreover, video content is very versatile and can be used in several different ways. For instance, you can embed it in a blog post, use screenshots as image posts, use quotes from the video transcript alongside images, and even reuse those quotes for media releases. Additionally, if you record a lot of videos now, you'll have a content bank for future use.
Would you consider organizing online webinars or live demonstrations straight from your kitchen or bakery? Sharing some common dishes and desserts with your database. I strongly feel that this will go a long way in establishing a direct communication between your hotel and the clients, in addition to promoting your food and beverage product.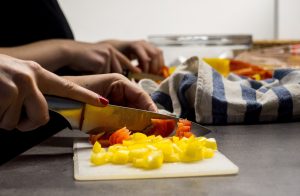 Another thing you can do is to take advantage of all the free time that people have right now and interview customers about their experiences and knowledge of your products and services. You can use Zoom or other services to conduct and record the video calls. In the coming months, these recordings and transcripts will be a rich source of insider information for your blog posts, social media, media releases, and more.
Responding to online reviews is an excellent way to connect with your customers, so if you don't have an online review strategy already in place, now is a good time to think about implementing one. Just as you engage with your customers on social media, replying to reviews helps build trust and repeat business for your brand. No matter the tone of the review, it's a best practice always to respond.
You can take this time to start training some of your employees to manage your online reviews. To make things easier on them, write out a few templates, go over your brand messaging, teach them how to respond to negative reviews, and give them the appropriate tools to monitor the reviews going forward.
Consider holding a webinar to answer some of the frequently asked questions about your hotel, its amenities, destination, new products, and services. Alternatively, you can make an FAQ video that you push out on LinkedIn, YouTube, other social media platforms, and even your website in the coming months.
You should also update your hotel's 'Google my business' to let your customers know if you're operating under special hours, what steps you've taken to avoid the spread of the virus, and what offers they can avail. It might help you drum up a little business.
While it's important to consider an outreach strategy at this time, try to avoid crisis-related promotions. Instead, get creative and think of ways to offer reassurance, social connection, or tangible support during this crisis. You can consider hosting an online video space once a week where people can join in and have a light discussion; apart from this SEO and online marketing can also help you build a connection with people. If your customers are used to hearing from you regularly through emails or other digital platforms, you mustn't let that connection drop off.
Finally, you can also use this time to take a closer look at your first-party data. Review what you know about your customers, about prospects that didn't pick you, and things you missed in the analytics in the past. Look for trends, both online and offline, and think about what you can fix today so that your hotel doesn't turn a two-month crisis into a six to nine-month crisis down the line.
As the corona-virus hits the travel and hospitality industries, there's no statistical saying in how long might the industry take to recover. Having been in the hospitality industry myself for over 40 years, I also understand the difficulties that you must be facing right now as a hotelier and my heart goes out to you. However, now is the time to keep our head on straight and prepare for better days. If the impact that the lockdown has had on people is to be taken into consideration, we can hopefully say that more and more people will be keen on traveling and experiencing the beauty nature has to offer. Who's to say how long will it take to make up for a crisis, but being hopeful definitely helps. That being said, we need to be prepared nevertheless. For in the wise words of Confucius, "A man who does not plan long ahead will find trouble at his door".
Ram Gupta is a hotel management graduate. He is a certified Hotel Administrator from U.S. and MIH from U.K. He has over 40 years of sound experience in the Hospitality industry in India, Dubai, U.K, Europe and Japan and is well versed with all areas of business including acquisitions, mergers, joint ventures, diversification, strategic planning, development and operations. He has been associated with over two dozen luxury and boutique hotel projects and has launched two hotel chains in India. He is currently an independent hotel consultant and could be contacted at ramgupta@bcgglobal.com. Website: www.bcgglobal.com
LATEST HOSPITALITY BOOK BY THE SAME AUTHOR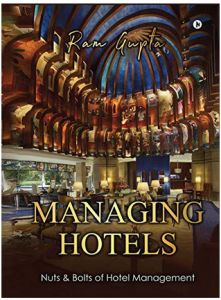 NOW AVAILABLE FROM
ALSO ON,- 
AMAZON KINDLE, KOBO, GOOGLE PLAY & i BOOKS
BOOK STORES IN INDIA
COFFEE CUP – SECUNDERABAD, CROSSWORD – BANGALORE, PUNE, JAIPUR & NOIDA, GANGARAMS – BANGALORE, HIGGINBOTHAMS – BANGALORE & CHENNAI, MODERN BOOK STORE – TRIVANDRUM, ODYSSE – COIMBATORE, OXFORD – DELHI & KOLKATA, STORY BOOK STORE – KOLKATA, TITLE WAVE – MUMBAI, WRITERS CAFÉ – CHENNAI